GIVEAWAY CLOSED. Congratulations to 2021 Railway Raffle winner, Heather Smith! Thank you to everyone who purchased raffle tickets supporting the rebuild of Steam Engine #17! You can still support our nonprofit railway and museum by making a tax-deductible donation.
The North Carolina Railway Museum, which operates New Hope Valley Railway, is hosting its first raffle fundraiser supporting the rebuilding of its steam locomotive. The 2021 Railway Raffle offers a chance to win a variety of fun and unique experiences at our railway that can be enjoyed by all ages.
Like many nonprofit, volunteer organizations, our Museum and Railway suffered financially after being shutdown for most of the 2020 season due to the COVID-19 pandemic. When we did reopen last year for two months, we were limited to a reduced train passenger capacity at 30 percent.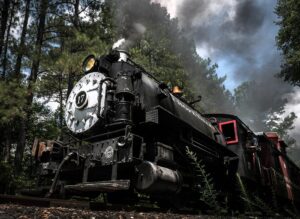 As a result of the severely reduced proceeds from train ticket sales, we had to suspend the rebuilding of our steam locomotive, Steam Engine #17. The steam engine is currently undergoing its mandated, 15-year Federal Railroad Administration inspection and the proceeds from this raffle, will go toward returning Engine #17 to service.
Most of today's trains have been converted to electric and diesel, and bringing back Steam Engine #17, will enable visitors to our railway to witness the nostalgic smoke puffing from its chimney and its distinct whistle.
The 2021 Railway Raffle offers a chance to experience a truly memorable ride day for family members of all ages and a special opportunity to operate a real diesel engine.
In addition to four free tickets to enjoy a trip aboard the Triangle's Train during one of the popular Santa's Reindeer Roundup Express rides, the 2021 Railway Raffle offers a chance to see parts of our railway not seen on a typical ride day. After your train excursion, one of our engineers will open the door to a diesel locomotive allowing the winner plus three guests to see and walk inside one of our diesel locomotive cabs. This behind-the-scenes look will last approximately 15 minutes and educate you on what it takes to operate our diesel locomotive…and you can blow the horn too!
After your train ride and diesel locomotive cab visit, you'll also receive a $25 gift certificate to use at our onsite shop gift. Before your day ends, you can check out our outdoor garden railway to watch model trains, including Thomas and Friends™, operate on more than 1,000 feet of miniature track and visit our many museum railway cars.
The winner will also get the opportunity to experience one of our most unique offerings—operating a real locomotive from the engineer's seat during one of our scheduled 2022 dates. Our Operate-a-Loco experience is a favorite among dads, moms and grandparents and is available to anyone age 18 and up with a valid driver's license. The participant and one guest (age 18 and older) will spend an hour at the throttle of a real diesel engine and operate it on the 8-mile, round-trip New Hope Valley Railway route.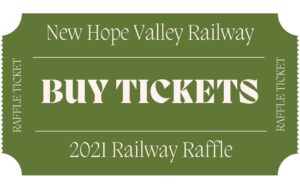 Raffle Details:
We're selling a total of 1,000 raffle tickets.
Tickets cost $10 each. Special pricing is available when purchasing multiple tickets—six raffle tickets cost $50.
The total raffle prize is worth approximately $250 plus priceless memories!
Operate-a-Loco: $175
4 train tickets: $56 ($14/each)
Gift Shop gift certificate: $25
TOTAL: $256
Raffle tickets can be purchased from 12 p.m. EST on Wednesday, July 21, until 12 p.m. EST on Monday, Nov. 15.
The winner will be selected the week of Nov. 15, 2021, and contacted by email first and then by phone. The winner will have one week to claim the prize before another entry is chosen.
Winners must agree to allow the North Carolina Railway Museum and New Hope Valley Railway to use their name, photo and likeness for promotion. The Museum and Railway reserve the right to promote the winner on its social media pages and website.
Members of the North Carolina Railway Museum and their families, and employees of our marketing and public relations agency, Communicopia, are not eligible to enter. Raffle purchasers must be 21 years of age.
Raffle Prize List:
(4) free train tickets for any departure time for our 2021 Santa's Reindeer Roundup Express Trains. We offer 5 days of Santa's Reindeer Roundup Express rides with more than 25 train departure times to choose from.
NOTE: If the winner has already purchased tickets to Santa's Reindeer Roundup, New Hope Valley Railway will refund the purchase price, up to four tickets. Tickets for our holiday trains usually sell out!
After your train ride, the raffle winner and up to three guests will explore one of our diesel locomotive cabs, see its inner workings and ask the engineer questions about how it operates.
(1) $25 gift certificate to spend at the North Carolina Railway Museum Gift Shop.
The raffle winner and one guest can also participate in our Operate-a-Loco Experience during one of our scheduled 2022 OALs. (OAL participants must be at least 18-years-old).