The Transportation Security Administration (TSA) and Federal Railroad Administration (FRA) still require masks for passengers and crew on trains, including New Hope Valley Railway.
We have two ride days left during July. On Friday, July 23 we have one ride at 10:30 am.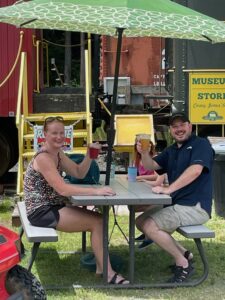 On Saturday, July 31 we have our second Brew 'n' Choo of the year.  In addition to four train rides that day, our Brew 'n' Choo event pairs a local food truck and brewery together enabling customers to purchase food and a beverage to enjoy on the train or in a picnic area in the rail yard. Be sure to arrive at least 30 minutes early to allow plenty of time before your train departure to purchase food and beverages. Our first ride leaves at 1:00 pm and last ride leaves at 5:30 pm. Food and drinks are not included in the train ticket and are an additional cost.
Book now!  We are hosting local favorites Fortnight Brewing Company and Will & Pops food truck. Proceeds from train ticket sales for this event will help fund needed repairs to diesel loco #1640.
The New Hope Valley Railway – operated by the 501(c)3 North Carolina Railway Museum (NCRM) – has a busy 2021 planned with train rides and events. We would love for you to come visit the Museum, ride a train, inquire about joining, see our 'Garden Railroad', and see the work we do to preserve and protect historic railroad equipment and experiences for future generations – all by volunteers!
COVID-19 safety measures have been revised to align with State of North Carolina COVID-19

guidelines, as well as CDC guidance, allowing NHV to remove capacity limits on the open-air passenger cars.  Each open-air car has approximately 30 unreserved bench seats, seating two people each. However, although the State of North Carolina has relaxed mask requirements, the TSA and the Federal Railway Administration (FRA) still require masks for passengers and crew on trains, including the New Hope Valley Railway. 
Family cabooses may still be reserved for a family group, but are currently sold out through September.
Operate-a-Loco experiences are now SOLD OUT for 2021.
To purchase tickets for our rides, please see our ticket calendar Buy Tickets. Please visit our schedule page to review our other scheduled 2021 ride dates. Choose your ride day or month, select a departure time, then 'Buy Tickets'. Our Family Cabooses sell out quickly, so if a ride does not show a caboose is available, it has already been sold. The price for a Family Caboose is $100 for up to twelve passengers.
Tickets for our Track or Treat: Halloween Express rides and Santa's Reindeer Roundup Express rides are not yet available for purchase and will be added to the 'Buy Tickets Calendar' in late July. Please check here or on our Facebook page for any updates or changes.
Please read the important ride info on our Plan Your Visit page to make your trip comfortable and memorable. Currently, our No. 17 steam locomotive is undergoing regularly scheduled repairs to maintain safety and compliance. In the meantime, all trains are pulled by vintage diesel-electric locomotives followed by four open-air passenger cars and a caboose.
We appreciate your patronage, donations, and support in 2020. We took precautions to protect our volunteers and visitors and will continue to do so. The museum and trains are operated and maintained 100 percent by volunteers, passionate to preserve and share railroad history. For more information on some of our volunteers, see Tracking Our Volunteers.