The nonprofit, tourist railway's 2019 season runs from April to December
(Bonsal, N.C., February 25, 2019) – After a winter hiatus, New Hope Valley Railway (NHVR), the Triangle's only tourist railway, opens again to the public in April 2019, and offers a full season of special events in its rail yard.
From April through December, NHVR typically offers two 10:30 a.m. weekday rides, one Slow Down Sunday ride and one Saturday Brew 'n' Choo ride event each month. Visitors can enjoy the October Track or Treat: Halloween Express trains and Santa's Reindeer Roundup Express trains in December.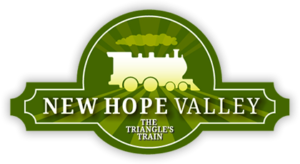 Excursions typically last about an hour with trains departing from NHVR's rail yard in Bonsal and traveling eight miles round trip. NHVR's rail yard is located 30 minutes from Raleigh off of Old U.S. 1 South on the Wake-Chatham county line.
In addition to riding real working trains, train enthusiasts and visitors also can tour the North Carolina Railway Museum for free and view the garden railroad (G scale) that runs on more than 1,000 feet of track.
Special occasions can be celebrated at NHVR by renting its vintage 1913 birthday party caboose and visitors can experience the thrill of driving a real locomotive through the organization's Operate-a-Loco program. Group and charter rides are also available.
"For more than 30 years, children, parents, grandparents and others have visited us to enjoy a ride on a real train," said Peter Jasion, NHVR director of sales and marketing. "Our all-volunteer staff is here to help passengers make memories and keep the spirit of railroading alive in the Triangle."
Adult tickets on NHVR's diesel trains range from $10-$14, with children's tickets (ages 2-12) ranging from $7-$14. Special pricing is available for seniors ages 60+ and children under two years of age are free when sitting in the lap of an adult ticketholder. Since train departure times and ticket fares can vary, it's best to check the ride calendar on www.TriangleTrain.com/buy-tickets for exact details. (see dates, times and prices below).
All ticket sales and donations help fund the restoration and construction projects at the railway. For more information, visit www.TriangleTrain.com.
Here is the 2019 ride schedule (dates, events, times and prices are subject to change):
2019 Weekday Ride Days: Wednesdays and Fridays at 10:30 a.m.
About the New Hope Valley Railway (NHVR)
New Hope Valley Railway (NHVR), the Triangle's Train, is the Operating Division of the North Carolina Railway Museum, Inc. NHVR straddles the historic towns of Bonsal and New Hill, North Carolina, 30-minutes southwest of Raleigh, off of U.S. Highway 1, Exit 89. A real train takes passengers on one-hour scenic rides through the woods in covered, open-air train cars. The 501(c)3 organization was chartered in 1983 as the East Carolina Chapter of the National Railway Historical Society and soon began its all-volunteer operated public train ride days. Also available are opportunities to operate a locomotive, host a birthday party in an historic caboose, and visit the North Carolina Railway Museum, Garden Railroad (G Scale) and gift shop.
Learn more at www.TriangleTrain.com or connect on social media:
Facebook: @TriangleTrain
Twitter: @Triangle_Train
Instagram: @TriangleTrain
YouTube: Triangle Train – New Hope Valley Railway