Our next Slow Down Sunday event is coming up on July 14th – ride times 11am 12:30 and 2pm. This is an event where you can enjoy a train ride through the cool piney woods of NC. Even when the temps soar – a cool breeze on the train is a fun family outing.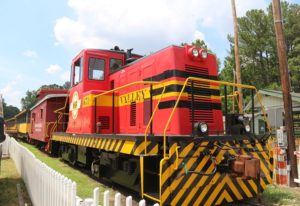 We are excited to host Trolly Stop Hotdogs – featuring these delicious Dogs:
–  Trolly Dog Beef & Pork "Traditional Southern Dog"
–  All beef "Northern Dog"
–  Gluten-free, fat-free Turkey Dog
–  Vegetarian Soy Protein Dog
Check our schedule page for rides on the second Wednesday and last Friday of the month – open to all and ideal for groups.
Next Brew N Choo is July 27 – to benefit No. 17 Steam Locomotive restoration – planned Bombshell Brewery, The Humble Pig & Jam Ice Cream