August 28 Brew-N-Choo
On Saturday, August 28, we are excited to host local craft brewery Barrel Culture and food truck Ta Contento Mex food for our third Brew 'n' Choo ride event of the season! In addition to four train rides that day, our Brew 'n' Choo events pair a local brewery and food truck together enabling customers to purchase food and beverages (adults 21+) to enjoy on or off the train. Food and drinks must be purchased on-site and are not included with train tickets.
Proceeds from this event will help fund needed repairs to get Steam Locomotive #17 back into service.
You can buy tickets now for any of our upcoming rides.
On Sale Now: Halloween and Santa Train Tickets
You can now purchase tickets for two of our railway's most popular train ride events—Track or Treat: Halloween Express and Santa's Reindeer Roundup Express. All of our Family Cabooses are sold out for both events.
Our rail yard, train and train route are festively decorated for both ride events. Visitors enjoy looking at the special holiday scenes set up along the tracks during each of these rides, as well as the many memorable photo opportunities.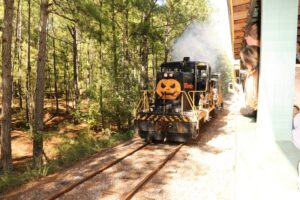 Track or Treat: Halloween Express trains will operate three Saturdays in October—Oct. 16, 23 and 30. Trains will depart at 2:45, 4:00, 5:15, 6:30 and 7:45 p.m. each ride day. During the spooky kid-friendly train ride, visitors will see scenes of flying witches, smoking cauldrons, large pumpkin faces, Count Dracula and other friendly creatures. Halloween costumes are encouraged.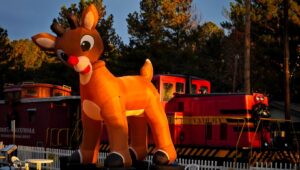 Santa's Reindeer Roundup Express trains will operate Saturdays and Sundays, Dec. 4, 5, 11, 12 and 18. Trains will depart at 9:30 a.m., 11:00 a.m., 12:30 p.m., 2:00 p.m. and 3:30 p.m. each ride day. Santa Claus will once again be in the rail yard to take photos with families (using your own camera) and young railfans can search for Santa's nine missing reindeer (including Rudolph) during the 50-minute ride. Children will also receive one individually wrapped candy cane. See the next section for the chance to win four tickets to one of our Reindeer Roundup rides, plus other valuable prizes.
These ride events can sell out, so advance tickets are strongly recommended. All of the Family Cabooses for our Halloween Express and Reindeer Round-up rides have been sold.
Raffle for Reindeer Roundup Express Tickets
The 2021 Railway Raffle offers a chance to win a variety of fun and unique experiences at NHVR that can be enjoyed by all ages—four free tickets for 2021 Santa's Reindeer Roundup Express trains, personal cab tour of a diesel locomotive, $25 gift card to the Museum Gift Shop and one 2022 Operate-a-Loco experience.
Tickets cost $10 with only 1,000 being sold. Proceeds will support the rebuilding of Steam Locomotive #17, which is currently undergoing its mandated 15-year Federal Railroad Administration inspection. Learn more and buy a raffle ticket at www.TriangleTrain.com/2021railwayraffle. If you win and have already bought tickets, we will refund your ticket purchase price, up to the value of four tickets.
Safety Measures

COVID-19 safety measures have been revised to align with State of North Carolina COVID-19 guidelines, as well as CDC guidance, allowing NHVR to remove capacity limits on the open-air passenger cars. Each open-air car has approximately 30 unreserved bench seats, seating two people each.
However, although the State of North Carolina has relaxed mask requirements, the Transportation Security Administration (TSA) and Federal Railroad Administration (FRA) still require masks for passengers and crew on trains, including the New Hope Valley Railway. 
Please read important ride info on our Plan Your Visit page to make your trip comfortable and memorable. Currently, our No. 17 steam locomotive is undergoing regularly scheduled repairs to maintain safety and compliance. In the meantime, all trains are pulled by vintage diesel-electric locomotives followed by four open-air passenger cars and a caboose.
Other Info You Need to Know
The New Hope Valley Railway, which is operated by the 501(c)3 North Carolina Railway Museum (NCRM), has a busy 2021 planned with train rides and events. We invite you to come visit the Museum, ride a train, inquire about joining, see our 'Garden Railroad' and see the work we do to preserve and protect historic railroad equipment and experiences for future generations—all by volunteers!
Buy Tickets for any of our train rides planned for 2021 by visiting our ticket calendar. You can also visit our schedule page to see a list of our scheduled 2021 ride dates. Choose your ride day or month, select a departure time, then 'Buy Tickets'. Our Family Cabooses sell out quickly, so if a ride does not show a caboose is available, it has already been sold. 
If you have any questions about ordering, please contact our ticketing partner Etix at (919) 396-5833.  They are very busy, so, typically you will need to leave a call back number message and wait for them to call you back.  If you call over and over again, your sequence in the callback queue will be reset and it will take longer to get a call back.
We now have one OAL available at 11:00 am on September 11. Watch early next year for our 2022 schedule.
We appreciate your patronage, donations, and support. In 2020, we took extra precautions to protect our volunteers and visitors and will continue to do so. The museum and trains are operated and maintained 100 percent by volunteers, passionate to preserve and share railroad history. For more information on some of our volunteers, see Tracking Our Volunteers.