New Hope Valley Railway (NHVR) will host a unique fundraiser for the renovation of the historic Goldston Depot on Sunday, Nov. 12, at its rail yard in Bonsal.
Visitors with tickets for the 11 a.m. and 1 p.m. departure times can ride the train and meet local author Larry Neal, Jr., who recently published a book on North Carolina train depots. Neal will meet with visitors and sign copies of his new book Rail Depots of Eastern North Carolina. 
People will also be able to see railroad artifacts and step inside the Goldston Depot that was moved to NHVR's rail yard in August 2017. The depot was gifted to the North Carolina Railway Museum, home to NHVR, by Todd Gaines, a Goldston businessman whose father saved the 23' x 58' building from demolition in the mid-70s.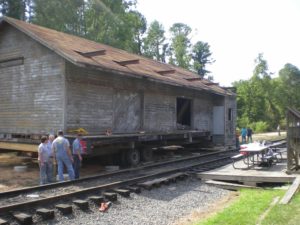 Complimentary pieces of cake to celebrate the Goldston Depot's move to NHVR will be shared with visitors while supplies last. Food and ice cream will also be available for purchase. Train tickets cost $10/adults, $9/seniors (ages 60+) and $7/children (ages 2-12, under 2 is free when seated in the lap of an adult).
Visit our event calendar to purchase tickets.