A second ticketed event taking place in the rail yard beginning at 4 p.m. is A Christmas Carol Dinner Show performed by The Phoenix Theatre Company. New Hope Valley Railway's first dinner theater ride, the show will help kick off the holiday season.
The costumed characters from the show will ride the train with ticketed passengers. Immediately following the train ride, the show will begin and dinner will be served. Dinner consists of four entrée options (choice of chicken picatta, flank stank, glazed salmon and a vegetarian option), sides (herb roasted potatoes, mixed vegetables) and dessert. Wine ticket vouchers can be purchased before the ride for $5/glass to enjoy during dinner.
The Phoenix Theatre Company aims to bring theatrical events to any space without an official stage space to perform. The show is interactive and encourages participation.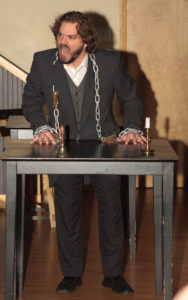 Tickets, which include the 4 p.m. train ride, dinner and show, cost $49 (plus sales tax and a convenience fee), will be limited and must be purchased in advance online at www.TriangleTrain.com by 12 p.m. EST on Saturday, November 11.
Proceeds from the November 12 ride day will go toward funding continued renovations of the Goldston Depot. Visit our event calendar to purchase tickets.