We're reopening to the public with four weekends of our Track or Treat: Halloween Express trains on Saturdays, Oct. 10, 17, 24 and 31.
Safety protocols and precautions are a priority. Government mandates are limiting the number of tickets we can sell and passengers that will be in each open-air train car. Everyone 5 years of age and older is required to wear face coverings in the rail yard and on the train in accordance with the North Carolina Department of Health and Human Services order. If your child is 4 years old or younger, a mask is not required.
Tickets must be purchased in advance and will only be sold online. No tickets will be sold to guests who arrive to the rail yard ticket booth the day of our events. We expect to sell out due to the limited number of passengers we can accommodate in each open-air train car.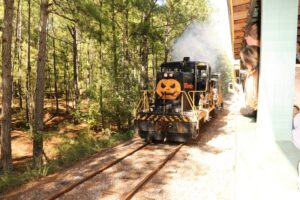 Our Halloween train rides feature kid-friendly Halloween scenes set up along the tracks. Our young passengers can participate in our Mummy Mayhem game where riders search for hidden mummies while sitting in their seat during the train rides.
Kids activities that are usually setup throughout the rail yard won't be happening, but families can still take photos with Halloween-themed backdrops and watch model trains zip around the Garden Railway.
Halloween costumes are encouraged, but you still must wear an appropriate face covering (costume masks don't count).
Each open-air train car will not exceed 30 percent capacity to allow for socially distanced seating (Passenger cars normally hold up to 60 riders each).
Read all the safety measures that we'll be implementing during ride days.
Give Today!
Tickets are currently available for all of our remaining 2020 rides, including our Santa's Reindeer Roundup Express holiday rides, but if you're unable to make it to our railway this year, we hope you'll consider supporting our all-volunteer organization with a donation. The North Carolina Railway Museum is an educationally focused nonprofit and your contribution helps us continue to preserve railroad history and share our love of trains with the Triangle-area and beyond. All donations are tax-deductible.
Operate a real locomotive with our Operate-a-Loco (OAL) experience!
The final day you can learn to operate a real locomotive from the engineer's seat this year is on Saturday, Nov. 14. Sign up and see details on our OAL page.