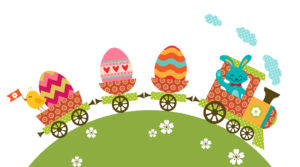 The North Carolina Railway Museum, home of New Hope Valley Railway, will open its 2021 ride season on the weekend of March 27-28. Hop Into Spring and celebrate all things spring with a train ride behind our historic locomotive. The Easter Bunny will be in the rail yard for egg-cellent photo opps before or after your ride. Also enjoy free activities, including our Garden Railway with 1000 feet track.
During the ride, eagle-eyed children can try to spot all the large Easter eggs set up along NHVR's four miles of train tracks. Please click on Buy Tickets for train departure times and ticket prices. All of our Family Caboose opportunities for Hop Into Spring train rides are sold out so they are not available for booking on our Buy Tickets calendar. 
Please visit our schedule page to review our other scheduled 2021 ride dates. Choose your ride day or month, select a departure time, then 'Buy Tickets'. Tickets for our Track or Treat: Halloween Express rides and Santa's Reindeer Roundup Express rides are not yet available for purchase and will be added to the 'Buy Tickets Calendar' later this year. Please check here or on our Facebook page for any updates or changes.
Many of the safety measures implemented last year, such as limiting passenger car capacity to 30 percent, will remain in 2021 until further notice.
Please read the important ride info on our Plan Your Visit page to make your trip comfortable and memorable. Currently, our No. 17 steam locomotive is undergoing regularly scheduled repairs to maintain safety and compliance. In the meantime, all trains are pulled by vintage diesel-electric locomotives followed by four open-air passenger cars and a caboose.
We appreciate your patronage, donations, and support in 2020. We took precautions to protect our volunteers and visitors and will continue to do so during the pandemic. The museum and trains are operated and maintained 100 percent by volunteers, passionate to preserve and share railroad history. For more information on some of our volunteers, see Tracking Our Volunteers.
Help Save The Ten & Preserve NC Rail History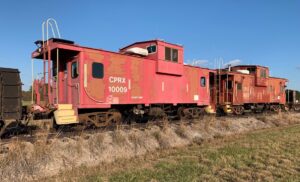 Our latest project is to save ten historic railway cars currently parked at the Shearon Harris Power Plant, including four currently owned by us and six cars that Duke Energy is willing to donate to us. In addition to having historical significance, two cars are cabooses that could be added to our train relatively quickly to add capacity. For more information on this new project, information on special benefits for corporate and larger donations and various ways to donate, see Save the Ten and Preserve NC Railroad History.
Please consider a donation to help us with this project!