From The Brass Hat
Hello everyone and welcome to spring!  It has been a long time coming, but our 2022 season is now upon us.  Granted, we have already had a couple of small events, but now the season is about to begin in earnest.  I am sure many of you will be participating in our Easter-themed "Hop Into Spring" ride weekend again this year.  Shannon is already getting the giant carrots and stuff ready to go and calling for volunteers to assist in the setup prior to the event.
As everyone knows, there are a lot of major activities being interspersed in the ride schedule this year with the Save the 10 car movements.  Elsewhere in this issue, you will find articles describing the specific tasks to be undertaken to facilitate the arrival and onward movement of the 10 cars which will now call the NCRM home.  A lot of work has gone into this prep and we all have a lot to be proud of.
I am sad to say that our esteemed Tarheel Telegrapher editor, Bob Crowley, has relinquished his long-running editorship due to health reasons.  Bob has been producing a well written, informative product each month for many years.  Many thanks to Bob for a long, successful run creating our primary contact with our membership and the rest of the world.  I am looking for a volunteer to take over the helm of our publication.  Good writing skills and software literacy (as well as a little time to put it all together) would be required of the successful candidate.  If you are interested, please contact me directly to discuss.  I intend to continue publication of a hardcopy newsletter as studies show members prefer something they can read and hold on to for a while instead of just another email…
Finally, be on the lookout for detailed information regarding the next NCRM quarterly Membership Meeting, scheduled for Saturday, April 16, 2022, at our museum facility.  As you are likely aware, we had to cancel the January meeting due to the threat posed by the COVID Omicron variant at the time.  We will be presenting the Museum's Lifetime Achievement award, the Order of the Rusty Spike to three deserving members at the meeting.  Please come out for the meeting so you can get first-hand updates on all the important things happening at your museum.
Quarterly Membership Meeting Saturday, April 16 at Bonsal Yard Gazebo
The quarterly membership meeting is your chance to hear from members of the Board of Directors, Officers and Committee Chairs regarding the status operations of the corporation, the Museum and the railroad.
If you are a member of the Board or in charge of some aspect of the goings-on at the NCRM, you should be present to brief your info if at all possible.  If you are a member who wants to know what is going on, you should be there to hear the info presented.
Ballots will be cast for new member candidate acceptance up until the last call by the Vice President at the beginning of the meeting.  Hardcopy ballots will be available at the meeting for those needing a ballot to complete.  Safety training will NOT be conducted on this date, but will likely happen in May instead.  A meal is planned with the Museum providing BURGERS, so everyone should bring a side dish so share and pass.
Thanks for all you do for our museum!
Chris Tilley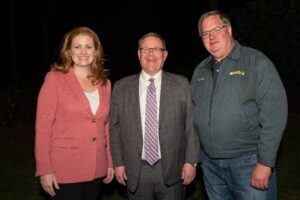 Correction:
One item from last month's electronic Tarheel Telegrapher didn't get included. The story from Victor Varney (pictured right) about a meeting with State Representative Erin Pare (left) and State House Speaker Tim Moore (center) among others, should have included this photo. Now you have the rest of the story.

Videos from Days Gone By
Watch these Old NHVRY Videos! You may find some folks you recognize (however, much younger) and see how far we have come over the years!
Save the 10 in the News
Read this article published in Suburban Living Magazine about our big project which is hot off the presses.
Save the 10 Update

Article and photos by Victor Varney
As of February 21, the NCRM Save the 10 crew completed moving the last few cars into position on the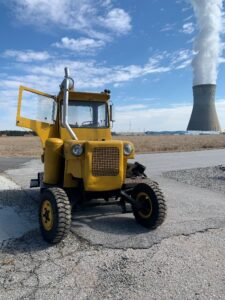 Shearon Harris siding where they will be lifted by crane and transported to our property.  We have been making extensive use of our Trackmobile rail car mover over the last few weeks. Despite some early hiccups, it is now working great. It has proven to be a real work horse (and saved us a lot of money not having to pay for a rental unit).  No, this is not an ad for a sexy new sports car sitting at an exotic location.  This is our trusty 1959 Trackmobile Car Mover about to go onto the rails to begin work at the Shearon Harris Plant.
Our crew has been moving each car into position using the car mover and one of the CPRX flatcars as an idler for additional braking capacity.  When the crew finished, we got a nice picture of some of them with the 10 cars in the background. (see below)  The next step in the project is working out the lift plans with our crane and truck transport company subcontractors. These plans require Duke Energy review and approval.  With the lift planning already underway, it now looks like the move will begin the first week in May over a 1-2 week period. As tentatively scheduled, the crane will set up Monday May 2 and cars will be moved over the following days, weather permitting, of course.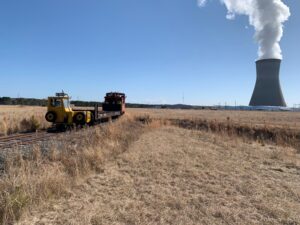 This means we will start running trains for the public as scheduled in April. That includes "Hop Into Spring" rides on April 9-10 (decorations need to be set up!), a single weekday ride on Wednesday, April 13, OAL (Operate-A-Loco) runs on Saturday April 16, and the Brew and Choo on Sunday, April 24.  [NOTE that this is a change from our normal pattern of hosting the B&Cs on Saturdays]
Immediately after the Brew and Choo, the big job of relocating platforms 1, 2 and 3 will begin (only platform 4 loading and exit don't get moved).  All the fencing and electrical wiring for the boarding platforms must be moved and we must take down the light pole between platforms1 and 2.  We will also be required to place gravel between the tracks along Daisey Street to accommodate the cars coming in on trailers and dollies.  After the moves are finished, we will need to restore all of the above to normal operating configuration so we can run excursion trains again on Sunday May 15.
Things are going to get busy in April.  We will be asking for volunteer help as these events unfold.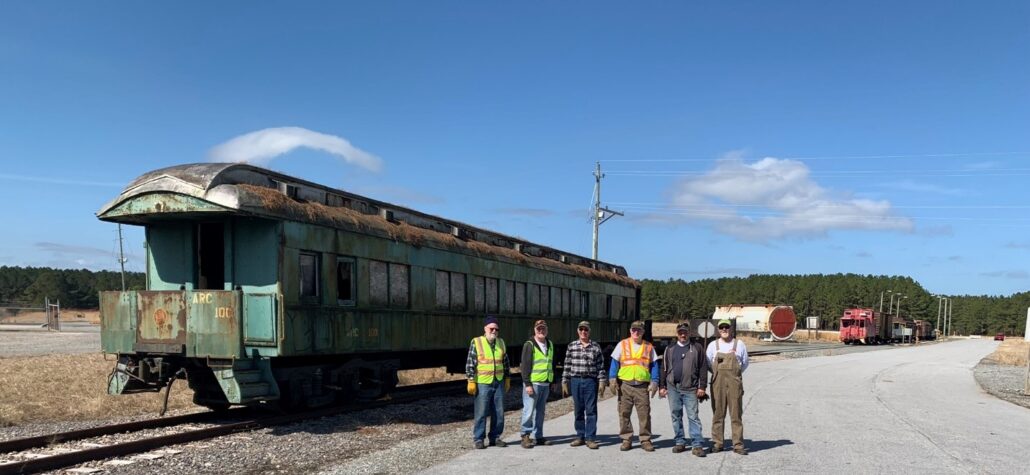 New Track at the NCRM!
Like the valiant men of the Central Pacific Railroad who laid Ten Miles of Track in One Day on 28 April, 1869, a group of dedicated NCRM volunteers are working to extend a track on our property to provide our Steam Locomotive 17 and the "Steam Boxcar" a better location for the next phase of work to complete the FRA 15- year inspection work.
This is the new tail of the "House Track", the track where our excursion cars load and unload on ride days.  Other equipment was removed to various locations at the museum by a group of volunteers, while others brought in soil to raise the ground level, added a few tons of gravel and a lot of hard work to get it all graded, leveled and ready for ties and track.
Equipment for Sale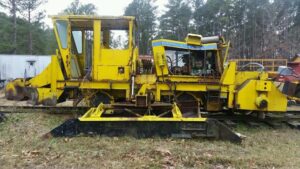 This notice is to inform the membership of the deaccession from museum holdings and offer for sale of the large ballast regulator  (non-operational) which was stored on the end of the house track behind Duke Energy locomotive #10. Our bylaws require a 30-day internal notice to our membership before offering it for sale to the general public.  If anyone is interested, please contact Chris Tilley before May 15, 2022.
17 On the Move!
Our crane is now operational again and being put to good use.  On March 26, Locomotive 17 was put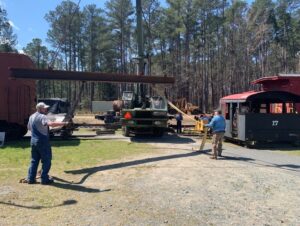 back on her wheels in preparation for a temporary move to the newly laid tail of the house track.
Volunteers moved 17's cab and lifted each end of the locomotive in order to remove the cribbing (that was placed with hydraulic bottle jacks ONE TIE PER LIFT with bottle jacks) to allow inspection of axles and bearings.  There are many projects happening at the Museum, a number of them interlocking with the Save the 10 effort like a giant sliding piece puzzle.
New Member Orientation Session
The next new member orientation session will be offered Saturday, June 11, 2022 from 10 am to noon. It will be held under the covered area behind the yard office, and include a tour of the property along with some of our ongoing projects.
The new member orientation session is intended to give new members information about our history, bylaws, how to get information, who's who, and most importantly how to get involved as a volunteer (and have fun). This session is open to those who have been members for up to 2 years. This is not a substitute for the rules and safety training sessions necessary to get involved with train operations, but we will explain how to attend those sessions, too.
If you are interested in attending, please RSVP to either Dennis Winchell or Victor Varney
The Bottom Line
16 April OAL/Membership meeting
21 April BOD
24 April Brew & Choo