Welcome to TriangleTrain.com, website for New Hope Valley Railway/North Carolina Railway Museum (NCRM).
The NCRM operates New Hope Valley Railway so that visitors can experience a ride on our historic railroad. Also affectionately known as the "Triangle's Train", it travels along 4 miles of historic track through piney woods and over a trestle on an hour-long, round trip from Bonsal to New Hill and back. In addition, on some ride days we also offer food and drinks.
What's Happening in the Rail Yard
Moving of 10 historical railcars began on May 9 from Harris Nuclear Plant to the rail yard of New Hope Valley Railroad. The NC Railway Museum is coordinating and paying for the move, thanks to the Save the Ten fundraising efforts. Read more 
Our next Brew 'n' Choo will be Saturday May 28, 2022, featuring craft beer from Red Moose Brewing Company and the COCKADOODLEMOO food truck. This is a great event for families, couples and railfans to enjoy the train and experience some local brew as well as food truck fare! The beer and food you purchase directly from the vendors may be enjoyed on your train ride or on the picnic tables and seating in the rail yard. Here is a .jpg (web)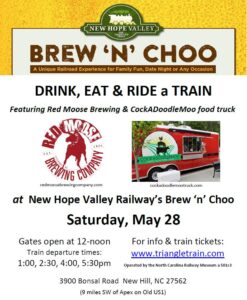 and BnC202205-v1 poster to share 
Buy tickets here–-you'll click through to our event calendar. Go to Saturday, May 28th and click on the train departure time you'd like to purchase. Ticket prices range from $9-$12 per person. Food and beer (for guests 21-years-of-age and older) are not included in the ticket price and are sold separately in our rail yard.
Masks No Longer Required
Masks are no longer required by Federal mandate on trains and will no longer be required to be worn by our visitors or staff on our trains or in the rail yard. We respect those who choose to wear a mask and know for some visitors masks are necessary. The good news is you now have a choice.
Calendar and Tickets
To access the 2022 schedule, pricing, and ticket purchasing please click on the Buy Tickets button.  You may also purchase tickets at the Ticket Office on ride days, assuming the ride you want still has seats available.  We prefer credit cards at the ticket office, but can accept cash, if necessary.
Halloween / Santa Trains
All ride days are posted except for our Halloween and Santa Trains which will go on sale in July 2022.
Sold Out Tickets
When you click on the BUY NOW button to purchase tickets, you are taken to our Calendar where you choose your day and time for the tickets you want to purchase. If a seat type, such as the Family Caboose, is not visible on our Calendar for a particular ride, it is sold out. Our Family Caboose sells out quickly, so if you do not see it on the calendar, it is sold out. One way to check is to mouse over the event in the calendar and view the available ticket price range.  If the max ticket price is less than $125, the Family Caboose seat type is sold out for that ride. If the ride you wish to purchase will not permit you to purchase the total number of tickets you need, that means the seats are sold out and not available. If that happens, please select another ride time.
Birthday Caboose
The Birthday Caboose has not yet reopened for birthday parties. Once it is open again we will post here and on social media.
Attractions
Be sure to visit the attractions we have on site, such as our 6 track G-Scale Model Railroad, Gift Shop, Post Office Car and Vintage Caboose.  You can also view projects in progress such as the Federal 15-year inspection for the #17 Steam Locomotive and our Goldston Depot restoration (from the outside for now). These are all free of charge and can be viewed on any ride day.
Like and Follow our social media channels to stay up-to-date on the happenings in our rail yard. Facebook: @TriangleTrain Twitter: @Triangle_Train Instagram: @TriangleTrain and YouTube: Triangle Train – New Hope Valley Railway
We look forward to seeing you soon!
The New Hope Valley Railway is the Triangle's Train, offering excursion rides on vintage equipment at the North Carolina Railway Museum. The North Carolina Railway Museum is a private, educational, tax-exempt 501(c)(3) organization dedicated to preserving and sharing North Carolina's railroad history. The open-air museum features displays of historic railroad equipment and artifacts, a large garden railroad, memorabilia, and a gift shop.
Year the organization was chartered.
Miles of track for an hour ride out & back.
Minutes southwest of Raleigh NC.