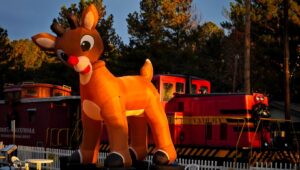 An additional day, December 19th, has been added to the Santa's Reindeer Roundup Express calendar. Click on Buy Tickets to see the ride departure times and buy tickets. The December 19th Family Caboose tickets are already sold out.
Visitors to our museum and railway this holiday season will see our rail yard, train and train route festively decorated. Train passengers enjoy looking at the special holiday scenes set up along the tracks during each of our Reindeer Roundup rides, as well as the many memorable photo opportunities.
Santa's Reindeer Roundup Express trains will operate Saturdays and Sundays, Dec. 4, 5, 11, 12, 18 and 19. Trains will depart at 9:30 a.m., 11:00 a.m., 12:30 p.m., 2:00 p.m. and 3:30 p.m. each ride day. Santa Claus will once again be in the rail yard to take photos with families (using your own camera) and young railfans can search for Santa's nine missing reindeer (including Rudolph) during the 50-minute ride. Children will also receive one individually wrapped candy cane.
Congrats to the Winner of our 2021 Railway Raffle
The 2021 Railway Raffle is over and we have a winner. Congrats, Heather Smith! Thanks to everyone who participated to help our museum and railway complete the rebuilding of Steam Locomotive #17, which is currently undergoing its mandated 15-year Federal Railroad Administration inspection.
Safety Measures

COVID-19 safety measures have been revised to align with State of North Carolina COVID-19 guidelines, as well as CDC guidance, allowing NHVR to remove capacity limits on the open-air passenger cars. Each open-air car has approximately 30 unreserved bench seats, seating two people each.
However, although the State of North Carolina has relaxed mask requirements, the Transportation Security Administration (TSA) and Federal Railroad Administration (FRA) still require masks for passengers and crew on trains, including the New Hope Valley Railway. 
Please read important ride info on our Plan Your Visit page to make your trip comfortable and memorable. Currently, our No. 17 steam locomotive is undergoing regularly scheduled repairs to maintain safety and compliance. In the meantime, all trains are pulled by vintage diesel-electric locomotives followed by four open-air passenger cars and a caboose.
Other Info You Need to Know
The New Hope Valley Railway, which is operated by the 501(c)3 North Carolina Railway Museum (NCRM), has a busy 2021 planned with train rides and events. We invite you to come visit the Museum, ride a train, inquire about joining, see our 'Garden Railroad' and see the work we do to preserve and protect historic railroad equipment and experiences for future generations—all by volunteers!
Buy Tickets for any of our train rides planned for 2021 by visiting our ticket calendar. You can also visit our schedule page to see a list of our scheduled 2021 ride dates. Choose your ride day or month, select a departure time, then 'Buy Tickets'.  Look for next year's 2022 calendar to be published on our website in February or follow us on Facebook.
Tickets are non-refundable unless there is a Covid situation. Tickets can be moved prior to a week before the ride.
If you have any questions about ordering, please contact our ticketing partner Etix at (919) 396-5833. They are very busy and will usually have callers leave a call back number message. Then they will call you back. NOTE: If you call over and over again, your sequence in the callback queue will be reset and it will take longer to get a call back.
All of our Operate a Loco experiences have been sold for 2021. Watch for our 2022 schedule early next year.
We appreciate your patronage, donations and support. In 2020, we took extra precautions to protect our volunteers and visitors and will continue to do so. The museum and trains are operated and maintained 100 percent by volunteers, passionate to preserve and share railroad history. Read stories on some of our longtime volunteers: Tracking Our Volunteers.

The New Hope Valley Railway is the Triangle's Train, offering excursion rides on vintage equipment at the North Carolina Railway Museum. The North Carolina Railway Museum is a private, educational, tax-exempt 501(c)(3) organization dedicated to preserving and sharing North Carolina's railroad history. The open-air museum features displays of historic railroad equipment and artifacts, a large garden railroad, memorabilia, and a gift shop.
Year the organization was chartered.
Miles of track for an hour ride out & back.
Minutes southwest of Raleigh NC.