Celebrate a special occasion in our Birthday Party Caboose at the North Carolina Railway Museum! Our vintage 1913 caboose is available for rent as a party room for birthdays and other events. Tables and chairs are provided, so all you need to do is bring the party favors, decorations, refreshments and guest of honor!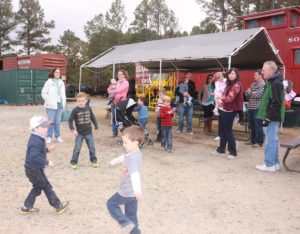 The party caboose is not part of the train rides and does not move.
Train tickets are NOT included in the rental.
Train tickets may be purchased separately, online, in advance.
The caboose has two 'rooms' – this is a real caboose, so these rooms are narrow. The larger room seats 12-15 children or 8-12 adults. The second room has a small table to store your party items, etc. There is an outdoor public area outside of the caboose with picnic tables, available to all of our visitors on a first-come, first-serve basis in our rail yard.
The caboose rental is $125 for pre-scheduled two hour periods on train operation days.
Reservations are available online via etix below. For questions, please email partycaboose@triangletrain.com and a volunteer will respond, normally within two business days, but please be patient and courteous with our all volunteer staff.
Reserve online via available dates and times on etix link here –
https://www.etix.com/ticket/e/1013222/2020-party-caboose-2-hour-rental-new-hill-new-hope-valley-railway