Join us for Thomas in the Garden Day Train Ride!
For our Sunday, September 11 rides our G scale garden railroad theme will be "Thomas in the Garden" as the trains we run will be Thomas the Tank Engine and many of his friends. Come see Thomas, Percy, James, and Emily pulling a variety of Thomas-themed cars on their way to Sodor.  Winston and Sir Topham Hat will also be on the layout, and we are currently trying to persuade Toby to also make an appearance on the layout. Our Minions will also be there, so bring your bananas and cheer Thomas and Friends on.
Be sure to come early to see the Garden Railroad (G-scale) trains at New Hope Valley Railway. The G-scale trains run each ride day before, during and after the train rides, operated by model railroad volunteers. The Model Railroad is located next to the ticket office.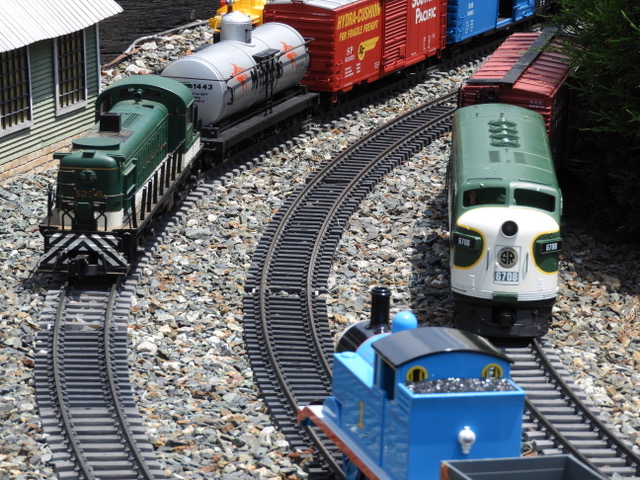 Visitors can watch the onsite model trains, including Thomas and Friends™ train cars, operate on more than 1000 feet of track. Garden scale model railroad trains are built to represent real trains at 1:22.5 scale on 45 mm (1.75 in) track. NHVR's garden railroad features scale tunnels, bridges, plants, trees, houses, churches and its own engine house.
There are 6 tracks with several trains running simultaneously. When you come to ride the big trains, be sure to see our model trains, too!