Volunteer and Serve
The NCRM and New Hope Valley Railway is 100% operated by member volunteers. There are opportunities for people with all kinds of backgrounds and skill sets to help. In addition to crews who operate and maintain the train we can always use artists, carpenters, curators, docents, researchers, gardeners, storytellers, attorneys, accountants and shopkeepers (just to name a few) to keep the Triangle's Train operating smoothly.
We have volunteers who are dedicated to the Garden Railway, Museum and education aspects, facilities and infrastructure, as well as the administration and marketing. Don't have any of these skills but want to learn? Sometimes a friendly hand is all that is needed and we encourage members to shadow other members to learn new skills. As you work to maintain and improve the NCRM and NHVR with fellow volunteers, you have the opportunity to share stories and learn about the history and heritage of the railroad.
Volunteers are required to be at least provisional members of the NHVR and a minimum of 18 years of age in order to share their knowledge and skills. Work sessions are held at Bonsal every Wednesday, Saturday (and most Sundays) from 9 a.m. to 4  p.m. all year round. There is always plenty of work, camaraderie and fun to be had.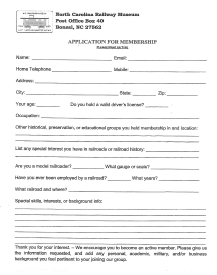 NCRM Membership Application Form
To apply for membership – please complete an application from the railroad office during a work session OR you may print the two page PDF from the link above and return via USPS mail with check to:
North Carolina Railway Museum
Membership Chairman
Post Office Box 40
New Hill, NC 27562-0040