Families, groups and organizations are invited to the North Carolina Railway Museum to take a relaxing and scenic one hour train ride and enjoy the natural beauty along the New Hope Valley Railway as part of a group or by chartering a train.
Groups can range from 10 to 60 people and purchase tickets during already scheduled ride days. There are no assigned seats on the train so groups must email groupsales@triangletrain.com to reserve a spot for your group. Letting us know ahead of time that you are coming also allows us to ensure that any special needs are handled.
Best efforts will be made to reserve seats together on a ride. We can handle up to approximately 60 people per train car and smaller groups will most likely share a passenger car with other riders. Reservations will be held by the name of the organization or the point-of-contact.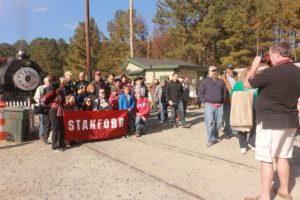 Charters are available for larger groups interested in renting out an entire train for themselves. Charters can be scheduled during a ride day or on a preferred date with sufficient notice. Our train has seating for approximately 260 people. Email groupsales@triangletrain.com to inquire about dates, pricing and other details to charter our train.
Some examples of associations that ride the train as groups and/or charters are:
Churches
Schools – our rides can serve as an educational experience.
Alumni Associations
Senior centers
Tour groups
Businesses
Clubs
Associations
Societies
and others!
Food and beverage for scheduled group train ride days is typically limited to bottled water and crackers for sale in the Gift Shop. Feel free to bring food to eat on picnic tables located near the Gscale model railway or on the infield near the loading area. Food and drinks are also permitted on the train. Contact us if you have something special in mind and Charter groups can inquire about customized catering options as well.
Please email groupsales@triangletrain.com for all group ride and charter ride questions and inquiries. Someone will typically reply within two business days, but please be patient and courteous with our all volunteer staff.