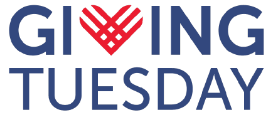 ON GIVING TUESDAY THIS YEAR, PLEASE HELP US TO PRESERVE AND SHARE NORTH CAROLINA RAILROAD HISTORY!!
On Giving Tuesday (November 28) or anytime throughout the year, consider making a tax-deductible donation to the North Carolina Railway Museum, Inc (NCRM), the parent organization of the Triangle's Train – New Hope Valley Railway.
The mission of NCRM is to educate current and future generations in the exciting science, technology, and development of America's railroads while preserving the heritage of railroading, its connection to and social impacts on the land, people, and industries of North Carolina and our nation.
We welcome visitors to our railyard museum to see and learn about railroad cars, cabooses, equipment, artifacts and even an 1884 train depot on those days/times a couple times each month when we run train rides. Your support and donations to the NC Railway Museum are vitally important to allow us to continue with our major restoration and preservation projects and to continue with our mission to preserve and share the North Carolina railroad history.
As a 501(c)(3) non-profit organization, all donations are tax-deductible to the fullest extent allowed by law. Your donation at any level allows us to continue sharing these rare pieces of history with YOU and ALL communities in North Carolina and beyond.
You can make your donation in the following ways:
If you are on Facebook, please go to our Triangle's Train Facebook Donation link. The fees charged by Facebook/PayPal  are 1.99% + $0.49 and you can choose to increase your contribution to cover it. This new fee structure is now in place.
Network For Good (NFG) We use Network For Good (NFG) to process our online donations. NFG charges us a 5% fee for use of their service. NFG will give you the option to cover their 5% fee in addition to the donation you wish to make to the NCRM. But you are under no obligation to do so. NFG will provide you with a receipt for your tax-deductible donation to the NCRM. Please click the Donate Now Button
By mailing a check to: NC Railway Museum – Fundraising Committee. PO Box 40, New Hill, NC 2762. Please make check payable to NC Railway Museum.
Also, please check to see if your donation is eligible for a matching gift from your employer (or former employer if you are retired).
Help us to preserve and share North Carolina's railroad history!
Your donation supports the museum's educational programs, preservation, museum curation, and preservation and restoration projects. Your donation will enable new progress on current efforts and the launch of exciting new ones. Here are some of the projects underway: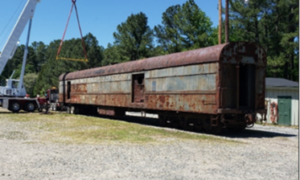 Complete the restoration of our 1918 Pullman Atlantic Coast Line Baggage – Express car #1665 (#714 current configuration) in beautiful 1970's royal purple, grey, and yellow and within which we will display a rare collection of dining car China, serving ware, and other never-shown railroad memorabilia. Estimated Cost: $150,000.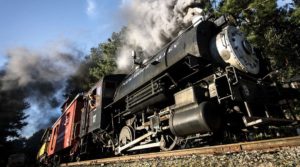 Put fire back in the fire box at the completion of the required
15-year rebuild of our 1941 Vulcan Ironworks Steam Locomotive #17
in 2024 bringing steam power back to our train rides. Our passengers
desperately miss this locomotive. Estimated Cost: $150,000.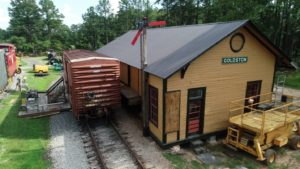 Give the 1884 Goldston Freight Depot public accessibility, a passenger platform (deck), fire protection and lighting to finish our interior interactive exhibit space. Our 2017 fundraising just covered the initial work of getting it here from Goldston, NC. Our volunteers are working on the interior for you, but until access ramps are built, we will not be able to show the Depot to our
visitors. Estimated Cost: $175,000.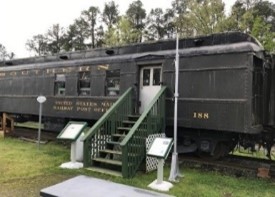 Give our ever-popular 1922 Southern Railway Post Office (RPO) and Baggage
Car #188 a much-needed fresh coat of its special paint and lettering. Estimated
Cost: $15,000.

Installation of 8-foot-high security fencing around many of our historic railroad pieces in our Maintenance of Way Yard.  Estimated Cost: $65,000.
These ambitious projects to make our museum and train operations safer, more informative, and more enjoyable for ALL can only happen with YOUR support!
Please contribute TODAY to our ongoing Fundraising Campaign! Thank YOU for helping us to preserve and share the NC railroad history!!
BE A CORPORATE SPONSOR
For information about how to be become a corporate sponsor and sponsorship opportunities, please click here.
Financial information about this organization and a copy of its license are available from the State Solicitations License Branch at 919-814-5400.
The license is not an endorsement by the State.