Welcome to TriangleTrain.com
New Hope Valley Railway / North Carolina Railway Museum (NCRM)
The NCRM operates New Hope Valley Railway so that visitors can experience a ride on our historic railroad. Also affectionately known as the "Triangle's Train", it travels along 4 miles of historic track through piney woods and over a trestle on an hour-long, round trip from Bonsal to New Hill and back. In addition, on some ride days we also offer food and drinks for sale. Please keep in mind that we are only open to visitors during the times we run trains on scheduled ride days. Steam Locomotive rides are not available at this time.
Holiday Train Rides on Santa's Reindeer Roundup Express thru Dec. 16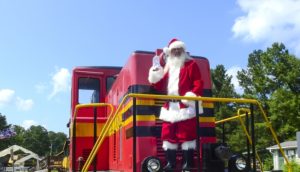 Our train yard is decorated for the holiday season and our popular Santa's Reindeer Roundup is departing Saturdays and Sundays through Dec, 16, 2023. Kids can search for Santa's missing reindeer along the tracks as they ride on our historic train, four miles out-and-back, 50 minutes through the North Carolina countryside. Santa will be on the train this year for selfies and to greet all of our guests young and old alike. Tickets are selling fast, so get yours soon. Buy Tickets

Operate-A-Loco and the Cabooses 302 and 308 for 2023 are sold out. 
Read some of our recent media coverage. We appreciate the Triangle's interest in our trains, events and rail yard! 
– Article about The Most Scenic Trains in North Carolina

August 2023 NRHS News –

Article about the Nuclear Fuel Train history and New Hope Valley Railway inaugural trip for the

Engineers and Security
Fuel Train Caboose Simulation Video – Cabooses previously used in spent nuclear fuel rod disposal
Young at Heart Adventures – Exploring New Hope Valley Railway
Travel and Leisure, 5 Beautiful Train Rides in North Carolina
Southern Living, Train Rides to take in North Carolina
Jacobs Rail Expedition, A video of a typical train ride
Spectrum News,

History of Train Travel, Spectrum/guest login required for full access

Cary Living Magazine Pages 28 & 38 Santa Rides and Save the 10 Nov/Dec 2022
NRHS (National Railway Historical Society) News, Save the 10 article (30 seconds to load)
Chatham News & Record, Halloween Express, November 4, 2022
PBS North Carolina Weekend, May 26, 2022, NHV section starts at 10:40 time marker
Duke Energy story on Save the 10, May 18, 2022
Like and Follow our social media channels to stay up-to-date on the happenings in our rail yard. Facebook: @TriangleTrain Twitter: @Triangle_Train Instagram: @TriangleTrain and YouTube: Triangle Train – New Hope Valley Railway
The New Hope Valley Railway is the Triangle's Train, offering excursion rides on vintage equipment at the North Carolina Railway Museum. The North Carolina Railway Museum is a private, educational, tax-exempt 501(c)(3) organization dedicated to preserving and sharing North Carolina's railroad history. The open-air museum features displays of historic railroad equipment and artifacts, a large garden railroad, memorabilia, and a gift shop.
Year the organization was started.
Miles of track for an hour ride out & back.
Minutes southwest of Raleigh NC.