Volume 63 – Issue 10                           1 October 2023
From the Brass Hat
I have to open this month with a HUGE "Thanks" to everyone who came out to help with the Halloween decorating. The simple act of putting all the displays on the train and dropping them off along the line with a couple of guys saved at least three full days of work! We got the majority of the project done between Saturday and Wednesday with large volunteer turnouts and a few to help with the really fun part, putting up the Pumpkin People. As we grow older, climbing the large embankments becomes more difficult, but having a couple of folks to help really made a big difference. With a few more days like the last week and we will be in great shape and finish ahead of time as long as the weather holds. There are photos at the end.
Moving on from Halloween, many other activities have continued. Our Bylaws Rewrite Committee, chaired by Victor Varney, has produced a coordinating draft which was discussed with the Board at our last meeting. The final draft for approval should be presented at the October meeting. Of course, ratification of the new bylaws is required by the entire membership. You all should see that in about 6 weeks, along with the companion NCRM Policy Manual, which will contain some of the items removed from the bylaws and many other things which have been Museum policies for quite a while.
Looking toward the future, our ballot counting for the Board elections will happen at the 7 October Membership Meeting (10AM). This is a change from the usual "third Saturday" for these meetings due to the five Halloween trains happening that day. Everyone is encouraged to attend and even help out with final Halloween decorating after the meeting. First five trains are 14 October.
Thanks for all you do for our Museum.
Respectfully submitted,
Chris Tilley
President, NCRM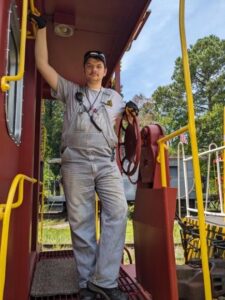 Get to Know a Member
Name: Brandt Wilkus (AKA – Squiggie)
How long have you been a member? Since 2012
Where are you originally from? I was born in southern Ohio and spent part of my childhood near Rochester, NY. I have been living in NC for 19 years as of this writing.
What is/are/were your job(s) in real life? I currently work part-time as a tutor for students studying CAD at Wake Tech, with an emphasis in Solidworks and AutoCAD.
Where do you live now? Holly Springs NC
Any family…spouse, kids, grandchildren? I currently live with my folks.
How did you become interested in trains? My interest in trains (steam locomotives in particular) predates my earliest memories. It has been so ingrained in my personality to a point where I consider it to be a fundamental attribute of myself. I have taken numerous trips to see steam up close and personal, some of which include (but not limited to) N&W 611 both when on display and in service, Southern 630 on trips out of Spencer Shops, Great Smoky Mountains Railroad 1702 on the Murphy Branch, the "Beast of the East" 1309 at the Western Maryland Scenic, and most recently in the cab of Southern 4501 at TVRM. I have had experience firing on our 17 herself, and I look forward to continuing that experience once she returns to service.
What is your favorite activity at the New Hope Valley Railway? I mainly serve as a brakeman (you'll typically find me on the north end of the train), but I most of all enjoy working on 17. I also like to operate our speeders when I have the opportunity, as well as to serve the role of Count Squiggula during the Halloween rides.
If you do not receive the operating crew calls, please contact the crew caller if you are interested in participating in train operations!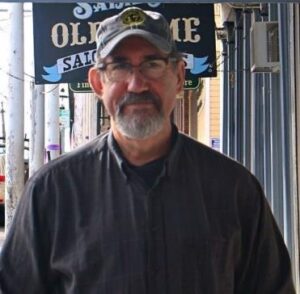 Back in the "Old Days" – Acquiring Locomotive 110
As Told by Dave Dick
Not many people know what it took to acquire two of our larger assets both locomotive 110 and the Goldston Depot. But before I get in to all that, we need to step back and examine the decision as to why we started the process in the first place. Two questions have to be answered – first, does the asset meet the requirements of both our collections policy and do they fit within the guidelines of our mission statement? Second, what is the condition of the asset and can it be properly restored and/or maintained? At the time that we acquired both the 110, which came first and then the Goldston depot, our collections policy was somewhat vague if nonexistent. But both fit well within our mission statement as a Carolina-based asset that had served short line railroads within the region. The historical implications were considered as well, and both were deemed to be assets worth going after. The second question was a little harder to answer. In the case of 110, and after three different inspections at Stone Mountain, the consensus was that the locomotive was a good candidate for restoration as well as being a fairly rare find. It's rare to find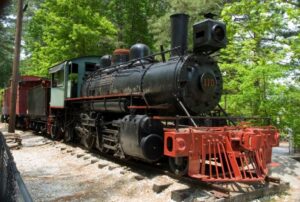 a locomotive of this size, and even rarer to find one that was being donated. As with the depot, the negotiations for its donation to the North Carolina Railway Museum was a very long process. locomotive. There were long periods of time in between correspondence while Stone Mountain Park laid out a path to donate the locomotive. We weren't the only museum interested in 110.
As far as I know two other museums were interested as well. In the end we had one more ace up our sleeves, which proved that it all comes down to who you know. Jack Johnson, a member who everybody should get to know, is really the person who made this donation as well as the depot donation possible, and who I have come to know both as a great friend and colleague. He doesn't like to talk about himself, so I'll do it here.
Jack set up most of the working steam equipment out at Silk Hope, as well as in Carthage NC at Mid-East Railroad Services "Train and Tractor Show". Jack and I will be working in the stationary steam barn the first weekend of November, so please come out and say hello! Here's the story as I was told…. turns out Jack had a neighbor who he had grown up with out in Siler City who, when we were trying to acquire the locomotive, was speaker in the North Carolina State Legislature. He in turn was a friend of a Georgia assemblyman in the Georgia State House who called the president of Stone Mountain to make a recommendation as to where the locomotive should go. Sometime after that I got a call from the president of Stone Mountain who, after a few pleasantries, said "Come and get your engine." I recall at the time being a little surprised and very relieved because we were now at the end of a two year plus journey that had many ups and downs along the way. But the important thing was that the North Carolina Railway Museum now owned a very unique piece of North Carolina History.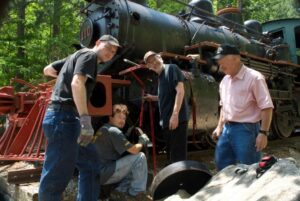 The question going forward was, how were we going to move a non-operating seventy-ton locomotive four hundred miles to the museum in Bonsal. Well to make a long story a little shorter our museum is blessed with folks who aren't afraid of a good challenge. Plans were made to secure and prep the engine for her move back to North Carolina in early February of 2013. The plan was to hire two rail cranes that were heavy enough to lift the 110 off its display track on to the mainline at Stone Mountain Park. Well at least that's the way we envisioned it in a written plan presented to Stone Mountain staff earlier in the process. The engine and it's display track were on a hill next to the depot so even getting two road worthy mobile cranes in there wasn't possible. As we arrived onsite, we were informed that the rail cranes were too heavy to cross the trestles on their mainline. So, we had to devise another plan pretty quickly. This is where we have to give the railroad crews at Stone
Mountain and Duane Studdard who represented the executive staff at SMP a lot of credit for what was to happen next. It was decided to lay rail from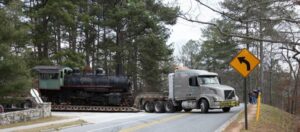 the display track to their mainline. This would mean cutting into their mainline to do so. Our cost would be to supply the railroad ties. Once we were tied into the mainline, a caboose which was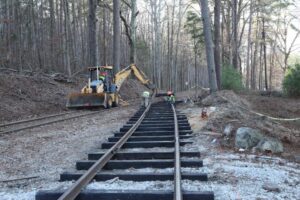 behind 110 and the locomotive itself would be moved off its display track back on to the mainline. Then deadheaded back to SMP yards where we had enough room to load the 110 onto a truck for its journey back to North Carolina. Tunison Trucking out of Michigan was hired to move the locomotive. He's a railroad contractor experienced at moving heavy equipment. The pilot and pilot beam had to be removed to be able to fit the locomotive on the flatbed, and even at that we were within a few hundred pounds of maxing out the weight limit. Tunison Trucking made two trips to bring the locomotive to the North Carolina Railway Museum, first the locomotive then the tender. It is an interesting site to see a locomotive moving down the highway on the back of a truck. There were a lot of cars slowing down to take a look at something you don't see every day. Even though there were a few problems along the way our team performed professionally and safely. In all, we were in and out of Stone Mountain with little disruption in five or six days.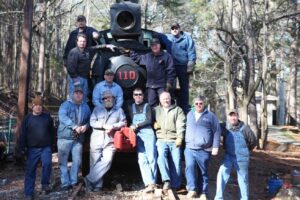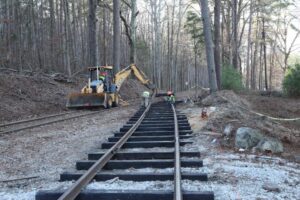 In the end it took about two years to finalize this donation. It should also be said that just because the locomotive was donated to us, doesn't mean it didn't cost us anything. It still had to be moved.
Locomotive 110 is a beautiful little 2-6-2 Prairie. Along with its local historical pedigree and its restoration back to operating condition, the museum would continue to enjoy its benefits for many years to come.
[Editor's note: If you have photos or other info about long-ago (or recent) events at the NCRM, please contact your editor. You can submit your own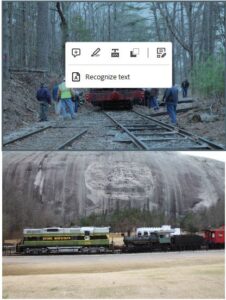 "Back in the Old Days…" or other article with pictures about anything (within reason) from our past for the Telegrapher. If you can rough out the ideas, we can work with you to craft an article to benefit the entire membership. – CT]
Saturday Work Crew for 7 October
For the next 2 months, we are going to continue to conduct monthly Saturday Crew Work Days between 8 am and midafternoon (we may start earlier on hotter days). Mark your calendar now for Saturday Work Days on October 7 (after the Membership Meeting), and November 4. These Saturday Crew Work Days will offer increased opportunities for volunteers to come out to Bonsal while still fully employed M-F, the more the better. By no means do these scheduled monthly Saturday Work Days limit any project teams that wish to organize to work on a
specific project on any other day of the month. Victor will reach out to everyone a week before to see what projects to put a project on the list for that day. After trying this out for the 6 months, we will assess the results and determine how to continue Saturday Work Days in 2024.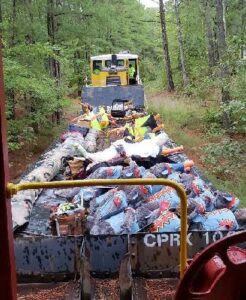 From the Witches' Path
by Gina Casselberry
Our kick off week for Halloween set up was a huge success. I wanted to thank everyone who came out to help Saturday, Sunday, Monday, and Wednesday. Hats off to the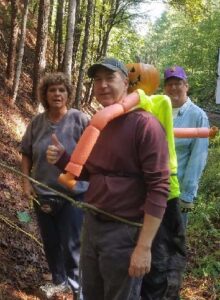 Saturday crew who battled rain and wind due to the tropical storm off the coast of North Carolina. A special thanks to Cindy who had a great meal waiting for us once we returned. Loading the flatcar for drop off proved to be very efficient and a huge time saver. As a result, we were able to deploy seven scenes in one day.
We learned some interesting things about our members. Charles is not very fond of monkeys, especially those with wings. Luke has been holding out on us and has amazing mountaineering skills and loves pumpkins. Little did we know, Paul G is related to Spiderman and is a master web spinner.
All kidding aside, I appreciate all of your help this past week and there is a lot more to accomplish before our first ride October 14th. We have work days scheduled for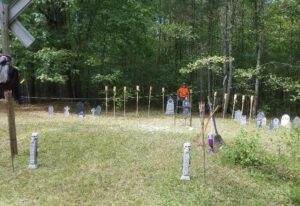 Saturday, September 30 and October 7, and Wednesday October 4 and 11. If you are interested in helping on another day, please contact Chris Tilley.
NRHS 2023 Convention in Florida
by R. Victor Varney (photos by the author)
Representing the NCRM, I attended the NRHS Convention held in Deerfield Beach, FL between Sept 1-6. The Convention hotel was the very nice Deerfield Beach Doubletree with a $129 per night NRHS group rate.
On the evening of my arrival on Friday Sept 1, I attended the NRHS Fund's annual in person meeting as a Trustee to make decisions regarding how we manage the NRHS's $1M+ investment portfolio. This portfolio provides a substantial part of the money needed each year to support the Heritage Grant, Rail Camp, and Film/Photo Preservation programs. I was also added to that evening's seminar schedule to talk about the Carolina's Spent Nuclear Fuel Trains. An article I submitted for the August 2023 issue of the NRHS News prompted interest in the NCRM's efforts to preserve the history of the fuel trains. You can find that issue of the NRHS News here.
On Saturday Sept 2, there were business meetings held at the Convention hotel for the entire day. It started with the morning long Advisory Council meeting which is made up of reps from NRHS Chapters nationwide. The Advisory Council is the primary means for providing input/feedback from the Chapters to the NRHS Board of Directors. By representing the NCRM in these meetings, we get a seat at the table and elevate the NCRM's role within the rail history preservation community nationwide. A decision was made to hold the 2024 Convention in Pennsylvania with several days visiting rail attractions including the East Broad Top.
Conventions take a lot effort to organize as the NRHS secures the hotel, provides full door to door transportation to each rail destination, and special access or rides at each visit not normally available to the public. The afternoon was mostly a Board of Directors meeting followed by an all-Member Annual Meeting. Key takeaways from the afternoon are that the NRHS is growing again, finances are sound, the Heritage Grant program provided $125K to Chapters this year (including $5K to the NCRM for our ACL baggage car doors), and both the East and West coast Rail Camps were successfully held again this year. All of these meetings are open to any members attending the Convention in person, or remotely via Zoom. I estimate there were 125-150 total attendees.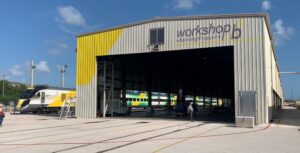 Sunday Sept 3 was the first day for Convention outings. Three buses picked us up at the hotel for a short ride to the new Brightline rail system's Palm Beach service facility. Originally this day was to include a ride on the new line up to Orlando airport from Palm Beach, but the opening of the new line was delayed to later in September. Our buses took us from the service facility to the nearby Palm Beach station for a ride down to Miami. I have to say, these trains are amazing. Built by Siemens for high-speed rail service in Europe. Each train has a consist of several very comfortable and modern standard service coaches and a premium coach (think first class) all pulled by some amazing diesel engines. The stations are all brand new multi-level buildings and feature beautiful light and airy waiting areas, gift shops, and a dining/bar area. See a few pictures of the Palm Beach service center, one of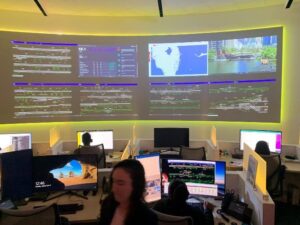 the streamlined consists, and the insides of the Palm Beach and Miami stations. A special treat arranged for the NRHS was a visit to the Brightline system management and dispatch control room in the Miami station. More high tech than NASA. (Maybe this could be a good model for Bonsal in the future?) For more information about Brightline, see here.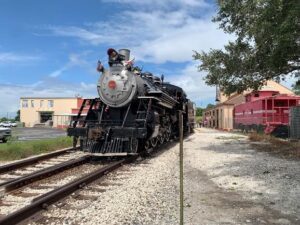 On Monday Sept 4, the outing for the day was to US Sugar's Sugar Express out of Clewiston, FL. US Sugar is one of the largest sugarcane companies in the USA with fields covering large parts of central Florida. They actually operate their own railroad to move sugarcane from the fields to their processing plants. It is basically a private railroad that does carry some common carrier freight. They also offer rides to the public at various times during the year in vintage passenger cars pulled by either a diesel or their newly restored ex ACL 4-6-2 steam locomotive. The NRHS chartered buses took nearly 2 hours to get to Clewiston. From there our train headed north up to a small resort area town called Lake Placid (named after Lake Placid, NY). Our train was pulled by a diesel outbound and by steam when returning.
During a nearly two-hour train ride each way, we passed thru miles and miles of sugarcane fields that stretched to the horizon, small towns, forest areas, and over one river. We stopped in Lake Placid for about 1 ½ hours to wander around the town, visit the shops, and get lunch. Nicely, the NRHS had arranged with the town to have places open for us that otherwise would have been closed on Labor Day. Here are a couple pictures of our buses arriving in the morning in Clewiston, our train, the sugarcane fields, and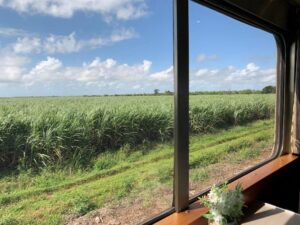 the steam loco at the Lake Placid station just before departure south. Note one picture of how they restored the inside of a baggage car with seating and viewing areas, plus a nice gift shop (with free cold bottled water and snacks). All in all, a wonderful but very long day with beautiful (not hot and humid) weather. For more info about the Sugar Express see here.
I had to return to North Carolina on Tuesday Sept 5, but the Convention continued that day with outings for either a system wide ride of Miami's public rail transit systems, or a visit to the nearby Flagler Museum. The day ended with the Annual Banquet with a special presentation by the President of Brightline. On Wednesday Sept 6, the final day of the Convention included a visit to the Gold Coast Railroad Museum. If you would like to attend a NRHS Convention, consider becoming a member!
Bylaws Committee Update
by Victor Varney, Committee Chair
In early July a committee was formed to review and update the NCRM's Bylaws. The committee includes Jim Jatko, Chris Tilley, Tom Hutchinson, Robert Middour and Victor Varney.
Our current Bylaws were last updated in July 2017. Six years ago. For any of you that have read our Bylaws you know that they are pretty long (18 pages). There are a number of things included that are not usually put in Bylaws, but instead put in an organization's Policy Guidelines or Handbook that can be updated more easily than when included in the Bylaws. There are other sections in our Bylaws that are just too wordy, or in some cases no longer relevant (like the Article about Divisions). We even have a couple places where we are in violation of our current Bylaws (like the Annual Member Meeting is to happen in October vs. January, or that Quarterly Member Meetings must always happen on a 3rd Saturday). However, there are a number of items that typically do appear in Bylaws that are missing in our current Bylaws (or not very prominent). Lastly, for several years there have been discussions about how might the process described in our current Bylaws for accepting new members be made easier and take less time. Right now, it can take as much as 3 months for a new member to be fully accepted. Not a great process for new members to endure AND if one of the goals in our new Strategic Plan is to attract far more members to increase our volunteer base, word of mouth marketing, and fundraising.
At the September 21 Board Meeting, the committee presented a new proposed set of Bylaws. Being added to our Bylaws are Articles about an Anti-Discrimination Commitment, Financial Solicitation, and Indemnification (how board members and volunteers will be protected from injury and liability situations). Two Articles now more prominent and consolidated than in our current Bylaws concern Conflicts of Interest, and Dissolution of the organization if that were to occur. No longer in our proposed Bylaws are a number of things headed to a new Policy Handbook (that will be presented first at the October Board Meeting). Most important, the new proposed Bylaws change the process for new members to be accepted basically as soon as they submit their application with the initial dues payment. No further need for prospective new members to go thru votes by both the Board and members before being accepted. However, once the new Bylaws go into effect new members will not have the right to vote until they meet certain requirements like the number of volunteer hours worked each year. This change in how new members "earn" the ability to vote will have no bearing on the voting rights of any member accepted under our current bylaws as long as they remain in "Good Standing" as currently defined as no lapse in paying dues by more than 2 months. The overall net changes reduce the Bylaws from 18 to 11 pages.
The schedule for the new Bylaws committee is to continue to revise/edit as we go along, and present the proposed Policy Handbook for input at the October Board Meeting. It is intended to have both the proposed new Bylaws and Policy Handbook approved at the November Board Meeting. That will then allow release of the proposed new Bylaws and Policy Handbook in December to all members to review and offer input prior to a vote to ratify (approve) the new Bylaws at the Annual Member Meeting in January 2024. The new Policy Handbook will become effective once the new Bylaws have been ratified.