Volume 62 – Issue 12                                                                                                 1 December 2022
From the Brass Hat
Hello everyone.
NOTICE: This is official reminder announcement of a Special Membership Meeting at 8:00AM on 3 December 2022 at the Bonsal Yard Gazebo for the purpose of ballot counting. This is 30 minutes prior to the Safety Meeting for the first Santa trains. Due to a procedural error, the Board of Directors decided we must re-do the Board election strictly following the language in the NCRM Bylaws. The ballots will be due at the beginning of the meeting. They may be mailed or hand-carried to the meeting. The term of the 2022 Board of Directors and Officers has been extended until the December Board meeting. The bylaws will be changed to account for the underlying condition that caused the error. Thank you for your understanding in this most-important task.
Preparations for the Reindeer Roundup trains have been going well and everything should be in readiness for our 27th running of the Christmas trains at the NHV. This has become a major event for the region. We have had at least a few families who have attended every year since inception. This is our largest event of the year, hands down.
I understand not every volunteer can participate for every ride. When you answer the crew calls, let me know which days and which trains you can run. Like making a quilt, we can patch it all together and come out with a workable product. If your availability changes, please let me know ASAP so we can reshuffle to get all the jobs covered successfully. Bad news does not get better with age…
My availability this month looks like it will be sporadic at best. While I am off dealing with emergent family issues, Vice President John Morck will be at the helm. Frostie the Snowgal's appearances may be limited this year as well. If anyone is interested in filling in, please let me know. The suit is pretty small, so not everyone can fit
Planning is ongoing for 2023. The schedule is in version 4 already and we still have time to make final adjustments before the Board commits to it. The Strategic Planning Committee has arrived at a common vision for the future (being compiled now) so progress on this critical task continues. More to follow on this adventure!
Thanks for all you do for our Museum.
Respectfully submitted,
Chris Tilley
President, NCRM
Renovation – Daisey Street Crossing
During the month of December, our crossing of Daisey Street will be replaced. This has been an ongoing planning project for many months, complicated by communication and supply chain issues. The NCDOT will be funding the materiel costs while we are responsible for covering the labor costs. We should have a smooth crossing again shortly. We have been assured that the repairs will not impact our operating schedule for the Santa trains. Bob Roule has expended many hours trying to coordinate the project, so hats off to Bob!
Repair – The Old Blue Gondola
We can safely move our gondola car again. This weary 98-year-old veteran has stood the test of time and survived the ravages of nature as well. The car was built in 1924 by Pullman for Southern Railway. Our repair crew has been working on the car since its arrival in 2019 including shoveling out a ton or two of ballast by hand earlier this year. For more on this series of cars, read on. The sister car is pictured elsewhere in this issue. Let's say the car has great potential!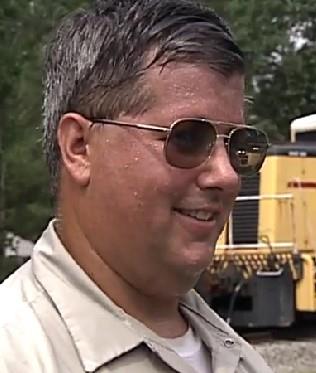 Back in the "Old Days" – Moving #10 – as told by M. Gray Lackey
The 25-ton General Electric locomotive was built in April of 1950 for Duke Power Company's Riverbend steam station in Mount Holly, NC as their #10, and it worked there and at the W.S. Lee station in Anderson, SC before returning to Riverbend. It was given away in retirement to the Piedmont Carolinas Chapter NRHS for their railroad museum in Belmont, NC. The engine became available when the Belmont Museum was forced to close due to being evicted by their landlord with all property to be removed by 31 December 2004. A date for movement was set on 20 November, and arrangements finalized for a move on that day.
With help from several museum members, panel and ramp tracks were built for use on a lowboy trailer, and Gray's F350 Ford truck was loaded with everything imaginable the crew might need: welder, acetylene torch, blocking, tools, etc. The museum curator in Belmont asked when he saw the truck and all that was on it, if we came prepared for war, but better to have and not need equipment than vice versa.
For the usual drama of a move, the brakes on the F350 started malfunctioning on the way home from getting all the equipment loaded on November 14. The water pump on our suburban started leaking badly that week too. The mechanic wanted to know what came first, he was told in no uncertain terms the truck had to be ready by the afternoon of 19 November – it was.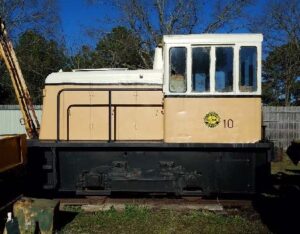 Previously, word had gotten out about the move date (it was no secret) and one of the local railfans put out a comment for people to show up and watch the circus show. Before the locomotive could be loaded, a caboose, sleeper-lounge and the locomotive had to be moved to a different position on the museum track. After verifying couplings on all three pieces of equipment and wrapping safety chains around the knuckles just to be safely sure, a chain was hooked to the
middle of the caboose frame and to Roger Koss' pickup truck on the adjacent street. We could hear all sorts of snickering from the crowd. We had riders on the caboose and locomotive to apply the brakes and the move proceeded without incident. Soon everything was out of the way. All the crowd that had gathered to watch and laugh were amazed at what moved the equipment and how we did it. They then decided there was no circus show and they would like to help some too, so they pitched in moving blocking and tools.
All three pieces of equipment were out of the way by the time the lowboy trailer arrived about 10:00AM and dropped the trailer in place for loading. The panel and ramp tracks were placed and cribbed while the crew waited for a wrecker from Star Towing to arrive to pull the locomotive onto the trailer. Not too long after the wrecker arrived, the winch cable was rigged and soon the locomotive was up on the trailer with no problems and ready to go.
The ramp and cribbing were cleared, blocking and tools loaded, and the two remaining cars were winched back into place to await a hopeful buyer. The wrecker loaded the ramp, and a motorcar purchased by two other members, on the truck, and the tie down chains were finalized before leaving.
The crew left Belmont and arrived at Bonsal at 4:40PM to unload. The ramp was set back in place, cribbed, and the locomotive rolled off the trailer under control of #67 with no problems. All went well and the supposed circus show was a big bust!
Special Feature – Homegrown Ingenuity! NHV #69 – Our First "Hyrail" Truck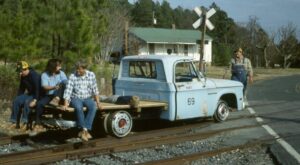 New Hope Valley Railway's first "Hyrail" truck was a 1964 Dodge truck that belonged to our late member Roger Barham. It had 20-inch truck rims welded to the 16-inch rims at the right spacing to use the Wheel rim as a flange. The picture was taken in probably in fall 1986. Pictured are L to R: Gray Lackey, late member Kevin Hooks, late member Bill Brooks, Sr. and Alan Ashworth (standing). Quiz: Does anybody know who the young boy lying on the back of the truck is?
[Editor's note: If you have photos or other info about long-ago events at the NCRM, please contact your acting editor. You can submit your own "Back in the Old Days…" article with pictures about anything (within reason) from our past for the Telegrapher. If you can rough out the ideas, we can work with you to craft an article to benefit the entire membership. – CT]
The Nuclear Fuel Train Rolls Again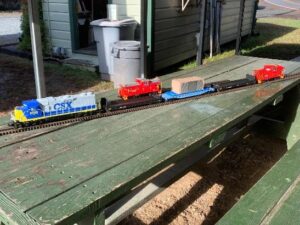 by Victor Varney
Thanks to Gray Lackey a brand-new nuclear fuel train passed thru Bonsal this past weekend, featuring a complete train including the very important fuel carrying car. Gray was able to pull a representative CSX locomotive from his vast O-scale fleet and he kitbashed the bulkhead flat cars and cabooses (including the new camper-style air conditioning units on the roofs). He was not totally faithful in every detail as the bulkheads are cut down much smoother than those on the full-size cars. The lettering is done in "Ransom Note" style, with each letter placed individually like letters cut from a newspaper.
Maybe our garden railroad team can get inspired to do the same. (Hint!)
The Fuel Train Veterans event is coming in spring 2023.
Police Departments' Youth Program Charter Ride
by Victor Varney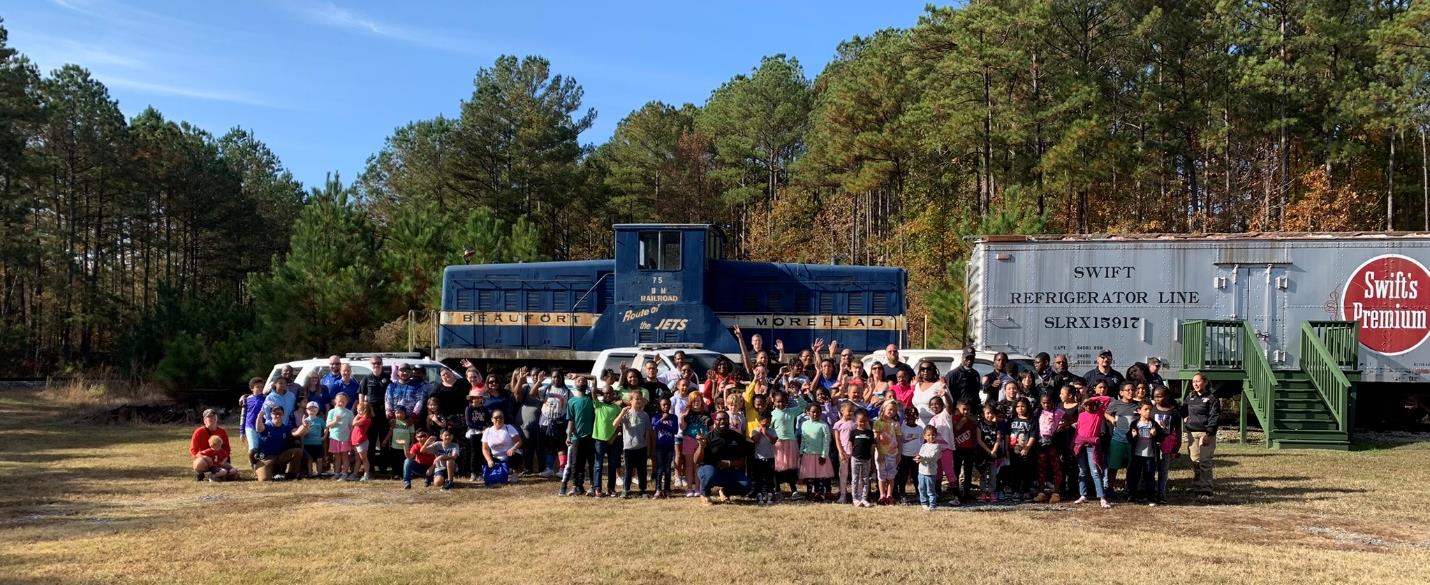 The Cary, Durham, and Pittsboro Police Departments visited us with kids from their youth programs for a charter train ride on Saturday Nov 5. This charter train
was sponsored by our friends at Wells Fargo Advisor's wealth management team in Chapel Hill. 106 kids, adults, and police officers rode the train. Each PD brought out food and drink so their kids could have a picnic after the train ride. All had a great time. While the Durham PD had visited us several times over the summer for train rides with their kids, for the Cary and Pittsboro police departments this event stimulated their thinking about bringing out kids from their youth programs for next summer, too. Thanks to our volunteers for coming out to support this ride for a bunch of deserving kids.
Where are all the SAVE THE 10 Videos and Photos?
by Victor Varney
A couple Telegraphers ago, we asked that those with Save the 10 videos and photos to please provide copies to Victor Varney. Thus far NO ONE has responded except Jimmy Sumerell. Our goal was to get videos and photos collected to create a presentation during our Annual Member meeting in January 2023 and maybe later use as a fundraising DVD. If you have any videos or photos especially from the days of the move May 9-12, 2022 please contact Victor. He can send you a link to upload your videos and photos, or make other arrangements to get from you on a USB thumb drive or whatever works best for you. Come on! Many of you took pictures and videos. Now is your chance to share these with the rest of the NCRM with credit to you!
IF one of our members might like to go thru all these videos and photos to edit them into a presentation, Victor would really like your help.
The NCRM Archive is STILL Looking for a Few Good Telegraphers!
by Victor Varney
The effort to gather up and inventory in our new climate-controlled storage unit in Apex continues to make progress. Anita Hussey has done a great job going through now over 64 boxes of NCRM items and every single item in each box has been documented. Our first priority is to document the history of the NCRM by assembling a complete collection of Tarheel Telegraphers. That said, after 1992 Vol 2-4 to the end of 2005 we are missing lots of issues. From the early 1990s through 2004 there are a variety of different formats used as well. These issues we do have sometimes are only a single page. We aren't sure if there was only 1 page in some issues, or if pages got separated. If you have a collection of Telegraphers that can help us fill the gaps between 1992 to 2004, please consider
donating them to us. There is now a small box in the yard office where you can drop off your old Telegraphers or contact Victor Varney if you have any questions.
December (+) Museum/Operating Schedule:
3 December Special Membership Meeting 8:00AM
3 December Santa Trains "A" 5 trains
4 December Santa Trains "B" 5 trains
10 December Santa Trains "C" 5 trains
11 December Santa Trains "D" 5 trains
17 December Santa Trains "E" 5 trains
21 January 2023 – NCRM Annual Meeting/banquet, Location TBA
If you do not receive crew calls, please contact the crew caller if you are interested in participating!
Possibilities: SOU 326112 – Can our Gon Look Like This? Yes!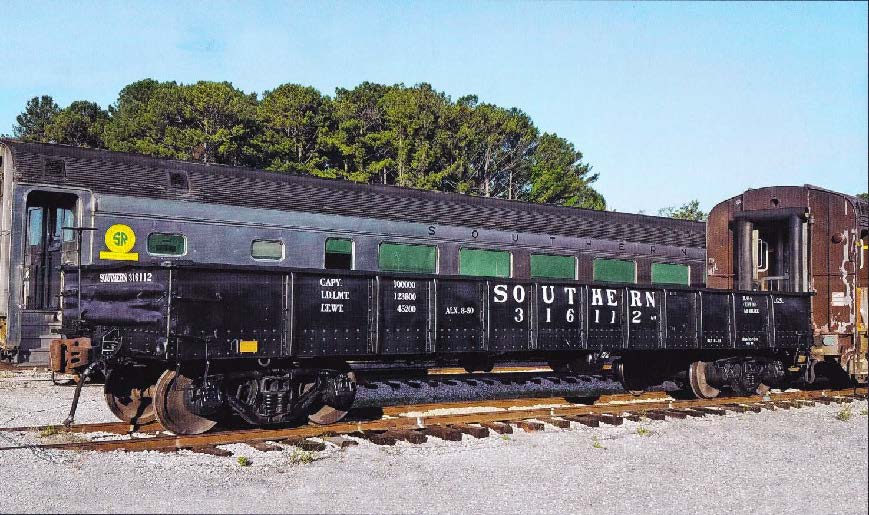 This photo of gondola 316112 may seem familiar to many of us at the NCRM. This is a sister car to our blue gondola, mentioned earlier in this issue. Both were built in 1924 by Pullman as part of a series of 1,500 41'6" low-side steel gons built for Southern Railway. Most got new car bodies in 1944 and were again refurbished and renumbered in 1968. The car came to us from the Eastern Shore Railroad (ESHR) in Virginia where it served as a reach car (or handle) used to keep heavy locomotives from having to move onto the Chesapeake Bay car ferry when spotting
cars. The ferry closed in 2012 and the ESHR closed in 2018. Tennessee Valley Railway Museum (TVRM), in conjunction with Southern Railway Historical Association (SRHA), acquired two of the cars (of the total of six still believed to be extant) and moved them to Chattanooga. One of the cars was further shipped to the NCRM, where repairs continue. The original number series has been lost to the mists of time, so TVRM chose a number from the series assigned in the 1968 renumbering. [This photo, by Mike Ray, and story appeared on the back cover of the SRHA magazine TIES, 2Q2022, Vol 36, No. 2. Used with permission.]
Save on Your Taxes & Help the NRHS – Roy J. Wullich II, CPA, Rochester Chapter NRHS
Many of us give to charities not only out of a sense of helping but also because it can be a great tax strategy. Typically, individuals may give cash or securities directly to the NRHS, which results in an itemized deduction reported on Schedule A of your personal tax returns. With tax law changes, specifically increases in the standard deduction ($25,900 for a married couple filing jointly in 2022) in some cases, these types of itemized deductions have had your tax benefits lessened or even eliminated completely.
Consider a Qualified Charitable Distribution (QCD) strategy
An alternative to the traditional methods of charitable giving for those who are 70½ or older is a QCD. A QCD is a distribution from an IRA made directly to a qualified charitable entity such as the NRHS. This tax-saving strategy is now a permanent part of the tax code. A QCD can be used to satisfy the required minimum distribution (RMD) from an IRA if an individual is over age 70½.
QCDs reduce the Donor's taxable income
The tax treatment of a QCD differs from the traditional method of giving because a QCD is reported as an above-the-line deduction. Simply put, the amount of a gift directly from an IRA to a charitable organization can reduce your adjusted gross income (AGI). This treatment is important because a QCD may give greater tax benefits than giving cash or securities, which are reported as an itemized charitable deduction on Schedule A.
If you are interested in making charitable contributions to the NRHS, are looking to maximize tax efficiencies, or may not need all the cash provided from your required IRA withdrawals this may be of benefit to you.
As always, since this strategy has both financial planning and multiple tax implications, it is best used after fully evaluating all the options for meeting your charitable giving intentions in the context of your individual situation and consulting with your tax advisor. [NRHS News, Nov 2022, Used with permission]
Looks Like We Need New Curtains in the Camp Car!