Volume 63 – Issue 7               1 July 2023
From the Brass Hat
What constitutes a "successful" train ride on our line? That could be many things to many people, but here are a few suggestions. First and foremost, it was safe – nobody got injured and nothing got damaged. Second, the train(s) ran mostly on time with no mechanical difficulties. Third, our ridership had a good time and learned something about our organization, railway history, or some other aspect important to them. This is high on the list for a reason. As our resident experts, YOU, our volunteers interacting with the riders is one of the most important things we can do in meeting our mission statement. Every car brakeman/car host should take time to speak with each rider/group and share something about the NCRM/NHV. If you are sitting alone on the train, listening to the wheels going clickety clack, you are missing an opportunity to make a friend or cheer up somebody's day. Also, much of our B&C/Halloween/Christmas ridership comes from word-of-mouth from our crew during regular ride days. If you can't think of anything to say, you can always make fun of the things that happen to me when I am captured by witches each October. Fourth, our crew got practice and valuable experience running trains. Perhaps one or more of our members got a chance to train on a higher position in hopes of future advancement in the crew hierarchy. Would you feel comfortable driving a car if you only did it once a month or less? I would not!
Notice that I have yet to mention the number of passengers: If there are more than 5 or 10 folks riding a train, we are not losing money by operating that train. The number of cars on the train doesn't really matter either (except for weight issues with extra cars). In fact, a small crowd spread over the full train allows for more individualized attention from the crew as described above. More passengers yields more revenue, of course. Conversely, cancelling a train due to historically light ridership only guarantees those seats will never be filled.
Walkups happen! If there is no train to board, they will take their business elsewhere.
Don't forget: Membership meeting 15 July at 10AM! Ballot Enclosed-last page
Thanks for all you do for our Museum. Happy Birthday America!
Humbly submitted,
Chris Tilley
President, NCRM
A Brief History of CPRX 10002 (now NHVX 302)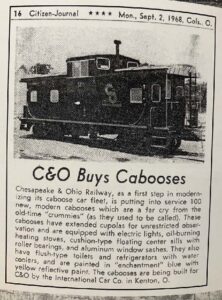 by Victor Varney
Over the past year since the two fuel train cabooses arrived on our property, we have been doing research about their history. CPRX 10002 was originally built in August 1968 by International Car Co for the Chesapeake & Ohio Railway (C&O). Its length is 42 ft, height is 16 ft, and width 10 ft. It weighs 55,100 lbs. There were 225 of these cabooses made for the C&O in a series numbered from 3100 to 3325. Our caboose was originally numbered 3124 and painted in C&O's blue paint scheme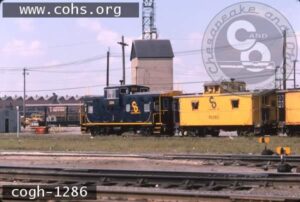 with yellow lettering.
In 1973 the C&O merged with the B&O and Western Maryland railroads to become the Chessie System Railroad. C&O 3124 was repainted in 1979 in yellow with blue lettering and the "Ches-C" emblem.
In 1980 the Chessie System and Seaboard System merged to form the CSX, and in 1982 the caboose became CSX 903124.
In 1988 the caboose was acquired from the CSX by the Carolina Power & courtesy of C&O Historical Society Light Co to be the first "escort vehicle" for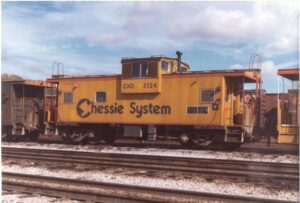 their nuclear fuel trains. It was subsequently repainted in red with a silver roof and renumbered CPRX 10002. Initial upgrades included installing new back up batteries, a battery charger, and a solar charger while retaining the original railroad Spicer #2 wheel-driven generator. This work was completed by Golden Tower Rail Car Co. in Raleigh, NC. Additional upgrades at we believe to have been done at Harris Nuclear Plant (HNP) included installation of 12V DC to 120V AC converters, charging circuits for portable radios and portable radiation monitoring equipment, two UHF radios installed for communication to the CP&L Energy Control Center (ECC), one VHF radio for communication with the NC State Highway Patrol, and a CB radio to communicate with local law enforcement agencies.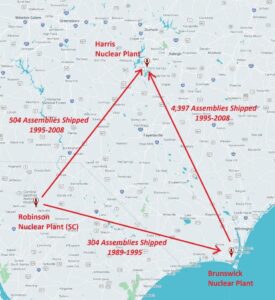 10002 was dispatched from HNP to the Brunswick Nuclear Plant (BNP) near South Port, NC on May 12, 1989 to then retrieve spent nuclear fuel rod assemblies from the Robinson Nuclear Plant (RNP) located in South Carolina. In 1998 this caboose was upgraded with a new diesel generator (and the wheel-driven Spicer generator removed), new wiring and a single RV style Air Conditioning unit. This work was completed by Golden Tower Rail Car Co. in Raleigh, NC. During 1999-2001, additional wiring and circuit breaker upgrades were completed. A microwave, chilled water dispenser, and refrigerator were also installed during this time.
Between 1989 to 1995, these trains carried 304 spent nuclear fuel assemblies from RNP to BNP for interim storage. From 1995 to 2008, CPRX 10002 was involved with trains that carried 504 spent nuclear fuel assemblies from RNP to HNP, and 4,397 from BNP to HNP (along with our other fuel train caboose, CPRX 10009, which began service in 2002). We believe that the last fuel train run for CPRX 10002 was in 2007. Progress Energy discontinued the spent nuclear fuel train operations in 2008 in favor of over-the-road trucks.
We believe both fuel train cabooses were moved to HNP around 2015 where they remained in storage awaiting scrapping until we first visited them in late 2019. As part of the Save the 10 effort, both were moved to the NCRM in May 2022.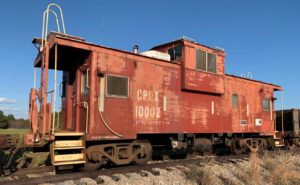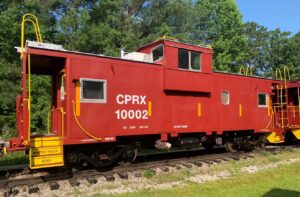 Over the past year our volunteers have spent many tireless hours meticulously restoring both cabooses, inside and out, with new paint and livery to look as good as new. Just compare the "before" and "after" pictures (by Victor Varney, below). A collection of photos and other displays have been installed inside, too. That also
includes the display of many items left behind by its last fuel train crew, (blue practice) rifles donated by the NC SHP, and yes, the Fig Newtons (only on CPRX 10002). Very recent good news is that the generator is running just fine on CPRX 10002 and will begin to carry passengers on the NHVR this summer (with AC!).
Special thanks to the C&O Historical Society for much of the historic information and pictures.
If you do not receive crew calls, please contact the crew caller if you are interested in participating!
From the NCRM Gift Shop
by Cindy Grau
Just taking a moment to let all of the members know that the gift shop currently has about 300 donated train books. Several people have downsized and had to let go of some lovely books about all kinds of trains and train-related subjects. According to the people that have looked at them, apparently some of these books are rather hard to find right now and they were glad to purchase them. If you are interested in a special book for your collection, please come by.
There is also a large selection of CSX caps as well as non-train-related ones (i.e. Knicks). A lot of these are brand new, but there are gently worn ones as well.
In case it has slipped you memory, the gift shop is open anytime the trains run, most Wednesday mornings, and on Operate a Locomotive Days. It is open to the public as well as to members, so if you want the best selection, come in soon. Also, Tim Carroll donated four pictures of trains for sale in the gift shop. Three of them are relatively inexpensive ($15) but one that I have temporarily hung over the checkout counter is $75. That one is a depiction of the train and the carousel at Pullen Park.
Uniform shirts – Any members interested in ordering the tan uniform shirts should do so very soon if they want them in July or early August. I will put in an order around July 11th, but it takes about 3 weeks to get them back sometimes. I need to know their size and how they want their first name to be spelled. The shirts have been $30 and I have not heard if the prices have gone up so I will stick to $30 at least for this order.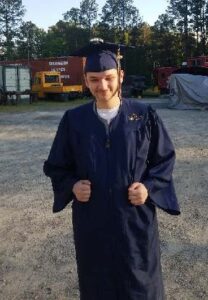 Congratulations!
After years of dedicated studies and hard work, our member Brandt "Squiggie" Wilkus as completed the required coursework and graduated from Wake Tech in May of this year, mere hours before running a train. He is now a certified Computer-Aided-Design expert! Seen here, he is wearing his brakeman's headlamp on the mortarboard, occasionally simulating a "Mars Light". As most of you know, he is also an accomplished brakeman, usually on car 201 or caboose 308. Also known as "Count Squigula", he is often seen flying around at Midway Crossing during our Halloween trains, chasing (or being chased by) whichever unlucky Grave Digger who runs afoul of him. Our congratulations to Brandt on a job well done and best wishes for future success in the business world!
Why Join the National Railway Historical Society?
As many of you know, after our organization was founded in 1963 at East Carolina University, they subsequently applied to become a chapter of the NRHS. In 1964, the group received its' charter to become the East Carolina Chapter of the NRHS. Our group kept that name until 2008 when renamed as the North Carolina Railway Museum, Inc. As the NCRM decided to re-engage with the NRHS a few years ago, the response from the NRHS could not have been more positive.
Member Victor Varney is now on the Advisory Council which is comprised of chapter representatives that provide feedback and direction to the NRHS board of directors. Victor is also the Vice President and Trustee for the NRHS Fund which is a separate nonprofit tasked with managing the NRHS's $1M plus investment portfolio.
There is no requirement for NCRM members to join the NRHS (as was required years ago). Like the NCRM, joining the NRHS helps support railroad history preservation on a national level and provides the financial support to fund the Heritage Grants program, the Rail Camp program for highschoolers to learn about careers in the railroad industry, and the historic film and photo preservation program.
For those of you that may not know, the NCRM has received 3 NRHS Heritage Grants over the last 4 years totaling $13,500. The $50 annual NRHS membership dues will also get you the high quality quarterly NRHS Bulletin, the NRHS News many times each year, filled with articles about chapter activities, the member rail attraction discount program, and access to the annual NRHS Convention.
This year's convention is Sept 1-6 in Ft Lauderdale, FL. Conventions include multiple days of well-organized outings to see and ride on area railroad attractions. The NRHS arranges buses to these rail attractions which often include a chartered train, behind the scenes tours, presentations, and catered meals.
If you have not attended an NRHS Convention (ever or in a long time) it is definitely worth getting on your calendar each year as a special rail focused vacation. Consider joining the NRHS by visiting www.NRHS.com OR pick up a membership application available on the wall outside the weenie hut. Contact Victor if you have any questions.
NC State Fair is Approaching – Volunteers Needed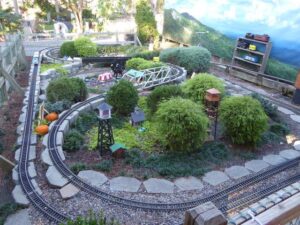 by Tom Hutchinson
The 2023 North Carolina State Fair will be held from October 12-22, 2023. For many years, the New Hope Valley Railway has operated a garden railway in the Horticulture section of the fair. Given the timing of the Fair, this is a prime opportunity to advertise our Halloween and Christmas rides which together generate a substantial portion of our annual revenue.
Volunteers are needed to staff the garden railway again this year. We operate from 9:30 am until 8:30 pm every full day of the fair with two shifts…each 5-6 hours long. You don't have to have experience with garden railroading to volunteer. Newbies will always be paired with an experienced garden railroad operator, and we also have published helpful hints for volunteers. The primary
duty of our volunteers is to interact with the thousands of people who stop by our exhibit…answering questions about our museum and letting them know about the fun they can have on our Halloween and Christmas rides (or as members). Pre-printed rack cards are available for volunteers to hand out to visitors. With two volunteers for each shift, there are times for bathroom and food breaks.
In addition to the fun of interacting with our visitors, you get free admission to the fair and are welcome to roam the fairgrounds before or after your volunteer shift. You will also get a pass on your volunteer day for free parking, a valuable perk. We use a computerized signup sheet so that you can see which shifts are available and choose times which fit your schedule (also recognizing that we have Halloween rides during both Saturdays of the Fair). If you did not volunteer last year and are interested in volunteering this year, or if you have any questions, please contact Tom Hutchinson and you will be added to our email communications. If you volunteered last year, Tom will contact you in mid-August.
Last 2023 New Member Orientation Session Scheduled
by Victor Varney
The next quarterly new member orientation session will be offered on Saturday September 16 from 10 am to noon. It will be held under the covered area behind the yard office, and include a tour of the property along with some of our ongoing projects. The new member orientation session is intended to give new members information about our history, bylaws, how to get information, who's who, and most importantly how to get involved as a volunteer (and have fun). This session is open to those who have been members for up to 2 years. This is not a substitute for the rules and safety training sessions necessary to get involved with train operations, but we will explain how to attend those sessions, too. This will be the last orientation session offered in 2023. The next one will be early 2024. If you are interested in attending, please RSVP to Victor Varney.
New Telegrapher Feature: Get to Know a Member
by Tom Hutchinson
As our museum grows, members tend to focus on their areas of interest: car renovation, train crew, locomotive maintenance, trackwork, etc. As a result, every member may not know everyone, or may not be able to place a name with a face.
To improve our ability to get to know each other, in the next month or two we are starting a new monthly feature in the Telegrapher called "Get to Know a Member". Tom Hutchinson of our Membership Committee will send a short questionnaire each month to a member picked at random. The answers to questions, such as "What do you most enjoy doing at the museum?" will form the basis for a short monthly article in the Telegrapher featuring that member.
Participation is voluntary, and if the member can provide a picture or "selfie", that's even better. So, watch your email inboxes for a message from Tom, and watch future Telegraphers for this feature.
If you have any questions or suggestions, you can contact Tom.
[I asked Tom to be the Guinea Pig and do the first article on himself. CT]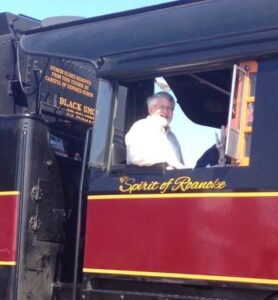 Get to Know a Member
Name: Tom Hutchinson
How long have you been a member? Since 2015
Where are you originally from? Born in central Illinois and lived there for many years, then lived in Minneapolis area for 6 years prior to moving south upon retirement in 2015 to be near grandchildren
What is/are/was your job(s) in real life? I was trained as an accountant, am a CPA and worked in accounting and taxes at a public utility in Illinois for 26 years until my company was acquired. I then joined Caterpillar, working primarily in the marketing area of various divisions as a business consultant for 14 years before retiring.
Where do you live now? Cary, NC
Any family…spouse, kids, grandchildren? Spouse (47 years), two boys (one an Army Lt Colonel and one an accounting manager) and three grandchildren…16, 14 and 7 years old
How did you become interested in trains? When I was five years old, I was fascinated by F7s pulling the Santa Fe Super Chief through a town nearby. Also, my parents and I used to go to Chicago on the Rock Island Rocket. I got a Lionel train set at age 6 and have been a model railroader ever since.
What is your favorite activity at the New Hope Valley Railway? Working with the garden railway
The NCRM Archive Needs Another File Cabinet
The NCRM Archive (a climate controlled large storage locker in Apex) is in need of another file cabinet (or two). To conserve floor space we need 5 drawer file cabinets, ideally already set up in each drawer to handle hanging file folders. We would appreciate a donation of a file cabinet in good condition. If you have one available to donate, please contact Victor Varney to coordinate getting it to the archive.
New NHV Video on YouTube
We had a group of videographers visit our Museum on 11 June for the Slow Down Sunday rides. They interviewed a few of us and shot video while on board also. Click here to view the video!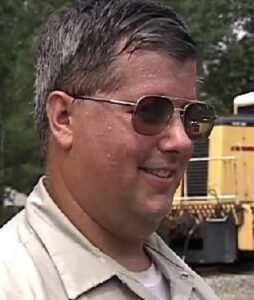 Back in the "Old Days" – Salvaging the Old Line – As Told by Gray Lackey
First, as a point of historical nomenclature: We call the track we run on today the "New Line" as relocated by the US Army Corps of Engineers due to the flood control project of damming the Haw River in the early 1970's to form Jordan Lake. The "Old Line" followed the valley of New Hope Creek and would be flooded by Jordan Lake. Even though the Haw River was what was actually dammed, the valley of New Hope Creek was lower in elevation and is what actually backed up to form Jordan Lake.
When the New Line was placed in service in 1973, the lower two miles of what was relocated of the Old Line (the original 1905 Durham and South Carolina) was kept for possible industrial development along Beaver Creek Road, with a connection to the relocated line at MP 10.4 (at our motor car house, which was not there at the time). The tracks were removed in the lake bottom while the rest of the lake bottom was cleared.
When the ECC-NRHS acquired the property from Southern Railway, the remnant of the original D&SC was part of the package. There was one problem that no one knew about until a few years later: the Southern Railway real estate department had forgotten to remove the property asset as sold even though we held legal title.
The railroad ran right beside the road and had all the frontage cut off of the adjacent property owners. The owners got together and bought the property from Southern Railway even though they didn't own it anymore. Somehow, the error was discovered after money changed hands and we received a legal summons as a defendant in Chatham County for a magistrate court case initially. We showed the magistrate the legally recorded deed and were summarily dismissed from the proceedings. The issue was now between Southern Railway and the property owners.
We were approached by Southern Railway in early 1985 about them buying the property back in order that they could then legally sell it to the adjacent property owners again, with all legal fees paid by others and we got salvage rights. The money realized retired our bank note on the property.
So now was the time to get the rail up. Now bear in mind this was early on and we didn't have any mechanized equipment except two motor cars and two farm tractors (a John Deere A and an International Harvester MD that belonged to members). We didn't even have an acetylene torch.
We started to pull spikes by hand and it was amazing how good the rotten ties held rusted spikes. Unbolting joint bars that had not been moved since 1905 wasn't easy either. This proceeded for a few weeks and was going nowhere fast, not to mention wearing everyone out, and were all a lot younger then.
A rail ripping sled was built to be pulled by both tractors in tandem. This proved the concept, but the sled was torn apart because it was too short and too light. A new sled was built using rail and tie plates. This sled worked without being torn apart, but rail ripping was not a use envisioned by farm tractor designers.
A neighbor (it wasn't Scott Smith who didn't live here yet) across from the tracks had a small crawler loader and we got him to finish pulling the rail sled – the crawler made short work of the job.
We continued to unbolt sections to the north and pulled lengths of four to five 39 foot rail sections to the south across SR1008 to our property.
Most ties were totally gone, some were salvaged for sale as landscape timbers and a few that were in a curve were good enough to reuse. Obviously, the ties in the curve had been put in relatively recently due to a derailment, which was not uncommon on that line. Some of the old rail has been used for siding extensions, some was sold, some was traded for heavier rail, and we still have a few pieces. This line was never upgraded since it was put down with used 60lb per yard rail in 1905 and stopped being used in 1973.
In a study of the Old Norfolk Southern before the 1974 merger, the line was described as two streaks of rust through the sand and should be abandoned immediately. I think everyone understands what the two streaks of rust are, but what about the sand – railroads are ballasted with rock, right? Many light and not-so-well-funded lines (The D&SC met both qualifications), were ballasted with sand and oyster shells. Sand was much cheaper than rock and was plentiful in the eastern part of the state. Oyster shells were free for the taking as waste from the numerous shucking operations along the coast. Sand and oyster shells won't support the weight rock will but drains and supports lightly built railroads.
If you are driving along SR1008 (Beaver Creek Road) today, you can still see the right of way of the salvaged old line. If you haven't had the experience of salvaging rail, especially in the summer, you don't know what a pleasure you have missed. But maybe you do.
[Editor's note: If you have photos or other info about long-ago events at the NCRM, please contact your editor. You can submit your own "Back in the Old Days…" article with pictures about anything (within reason) from our past for the Telegrapher. If you can rough out the ideas, we can work with you to craft an article to benefit the entire membership. – CT]
Saturday Work Crew for 15 July: For the next 4 months we are going to conduct monthly Saturday Crew Work Days between 9 am and midafternoon (we may start earlier on hotter days). Mark your calendar now for Saturday Work Days on July 15, August 12, September 23, and November 4. These Saturday Crew Work Days will offer increased opportunities for volunteers to come out to Bonsal while still fully employed M-F, the more the better. By no means do these scheduled monthly Saturday Work Days limit any project teams that wish to organize to work on a specific project on any other day of the month. I will reach out to everyone a week before June 10 to see what projects to put a
project on the list for that day. Chris will then get that list out to everyone. After trying this out for the next 5 months, we will assess the results and determine how to continue Saturday Work Days in 2024.
Saturday Work Crew for 15 July
For the next 4 months we are going to conduct monthly Saturday Crew Work Days between 9 am and midafternoon (we may start earlier on hotter days). Mark your calendar now for Saturday Work Days on July 15, August 12, September 23, and November 4.
These Saturday Crew Work Days will offer increased opportunities for volunteers to come out to Bonsal while still fully employed M-F, the more the better. By no means do these scheduled monthly Saturday Work Days limit any project teams that wish to organize to work on a specific project on any other day of the month. I will reach out to everyone a week before June 10 to see what projects to put a project on the list for that day. Chris will then get that list out to everyone. After trying this out for the next 5 months, we will assess the results and determine how to continue Saturday Work Days in 2024.
Around the Yard (1-3 Robert Middour photos, 4,5,7 Chris Tilley photos, 6 Tom Snyder photo)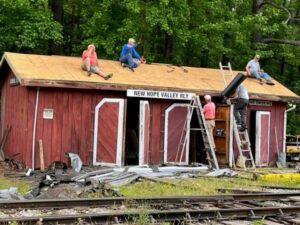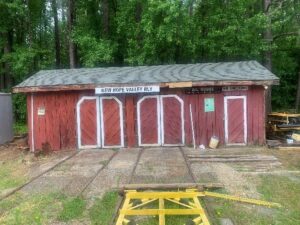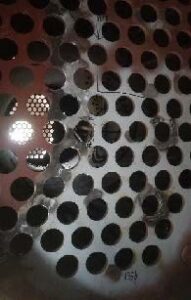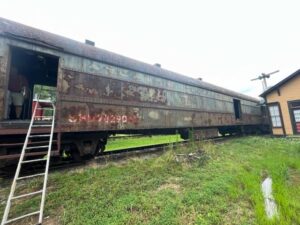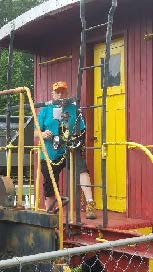 NCRM 2023 Schedule 3.0
July
1 Brew & Choo 1pm 4 trains
14 Friday ride 1030am
15 Operate-a-Loco 1100am 4 rides
15 Membership meeting 10am
15 Saturday Crew Workday 9am (NEW)
19 Wednesday ride 1030am
20 Board of Directors 6pm 22 Operate-a-Loco 1100am 4 rides NEW!
23 Slow Down Sunday 1pm 3 trains
28 Friday ride 1030am
August
5 Brew & Choo 1pm 4 trains
11 Friday ride 1030am
12 Saturday Crew Workday 9am (NEW)
16 Wednesday ride 1030am
17 Board of Directors 6pm
19 Operate-a-Loco 1100am 4 rides
25 Friday ride 1030am
September
TBD New Member Orientation
8 Friday ride 1030am
9 Brew & Choo 1pm 4 trains
13 Wednesday ride 1030am
16 Operate-a-Loco 1100am 4 rides
17 Thomas in the Garden 1pm 3 trains
21 Board of Directors 6pm
22 Friday ride 1030am
23 Rules&Safety Training 9am*
23 Saturday Crew Workday 9am (NEW)
October
1-13 Decorating daily – please help
7 Membership meeting/BOD election 10am
14 Halloween 215pm 5 trains
19 Board of Directors 6pm
21 Halloween 215pm 5 trains
27 Boo & Choo 5pm 3 trains
28 Halloween 215pm 5 trains
November
TBD New Member Orientation
4 Saturday Crew Workday 9am (NEW)
8 Wednesday ride 1030am
11 Veterans' Day Brew & Choo 1130am 4 trains
12 Operate-a-Loco 1100am 4 rides
16 Board of Directors 6pm
17 Friday ride 1030am
25 Decorating Day Potluck 9am
December
2 Santa Trains 930am 5 trains
3 Santa Trains 930am 5 trains
9 Santa Trains 930am 5 trains
10 Santa Trains 930am 5 trains
16 Santa Trains 930am 5 trains
21 Board of Directors 6pm
NOTE: Safety meeting 1 hour before all listed train movements. Crew calls issued 1 week prior from Chris Tilley.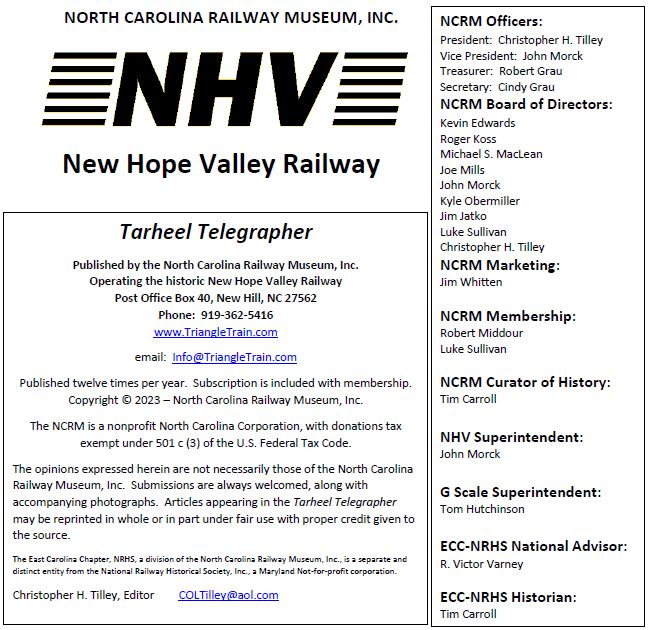 You may print the ballot and mail it or hand-carry it to the meeting.