Volume 62 – Issue 09                                                                          1 September 2022
From the Brass Hat
Hello everyone. It is so good to be back in the flatlands where everything is GREEN. I enjoyed my time out West and had three nice train rides mixed in, but there's no place like Bonsal. (Say that three times and click your heels!)
I would like to thank all the volunteers who came out in the August heat to get the jobs done. The birthday caboose is nearly ready to go again, our refurbishment of car 101 is progressing nicely, locomotive 1686 is up and running again (just in time for Halloween) and nine trains were run successfully. Also, our strategic planning continues to progress and the committee is digging deep into where we are and where we want to go. My thanks to all who are participating.
The Board has adopted a new way to handle the Rusty Spike program. Any member can nominate another member with at least three years' service for this award. A couple of paragraphs should be sent to the Membership Committee to substantiate the nomination. Anyone desiring assistance in preparing a nomination should contact Tom Hutchinson or Luke Sullivan. A majority Board vote is required to select recipients.
Enclosed in this newsletter is the annual Board of Directors ballot. I ask each of you to carefully consider the candidates and vote for those you feel would best serve the needs of the organization. Board membership has always been a big job, but as we look deeper into the future, it is getting bigger.
September is always a busy month around the Museum, and this year is no different. We have a lot of work to do getting ready for the Halloween trains, with several new lineside vignettes planned and a few projects which need to be finished before the trains run. This year we are particularly short on WITCHES. All the young witches have grown up and flown away. I would ask our membership to canvass their family members and friends to see if anyone is interested. The work is not hard, food and drink are provided and the witches get to cast a spell on the unlucky Museum President, turning him into all manner of  barnyard animals for the entertainment of the passengers. Of course, with a number of key crewmembers off the train, we will need plenty of train crew members to sign up when the call comes out.
Concerning Rules & Safety training: We will conduct classes on one Wednesday and one Saturday in likely September (actual dates still TBD). Watch your emails for the announcement. Remember, each volunteer train crew member must have at least one training session each year and pass the Rules Test every two years in order to meet Federal requirements.
Also, I must admit a slight mistake. As it turns out, with further analysis, the actual date of the arrival of "The Great Move" was 23 August 1982, not 26 August as previously stated in my email. Thanks to Victor for digging into old calendars and figuring it out.
Finally, some of us have gone to Boot Camp this week. John Morck, Luke Sullivan, Jim Jatko, Marco Zarate and myself attended the first of nine iterations of the Executive Service Corps of the Triangle's Board Leadership Bootcamp for non-profits. No pushups or obstacle courses were involved. We look forward to completing this training series and improving the way our Board of Directors operates to have a more fruitful future in the community.
Respectfully submitted,
Chris Tilley
President, NCRM
New Member Orientation Session
The next new member orientation session will be on Saturday, Sept. 17, 10 am to noon. It will be held under the covered area behind the yard office followed by a tour of the property along with some of our ongoing projects. The orientation session is intended to give new members information about our history, bylaws, how to get information, who's who, and most importantly how to get involved as a volunteer (and have fun). This session is open to those who have been members for up to two years. This is not a substitute for the rules and safety training sessions necessary to get involved with train operations, but we will explain how to attend those sessions, too. If you are interested in attending, please RSVP to either Dennis Winchell or Victor Varney.
Back in the "Old Days" – The NS901 Camp Car Story – as told by M. Gray Lackey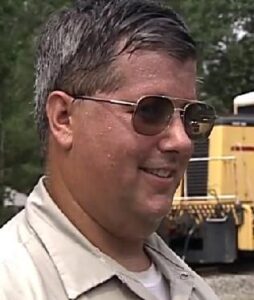 The car which is lettered currently as ONS 901 was originally Norfolk Southern wreck train camp car NS 901, originally an RPO (partially) car on the Denver and Rio Grande Western. At some point soon after the merger of the Norfolk Southern into the Southern Railway on Jan. 1, 1974, the Southern started "cleaning house" and ridding itself of much of the old antiquated equipment the NS had. Amongst many items disposed of was camp car 901 which was given to the Old North State (ONS) chapter of the NRHS. The ONS at one time had quite a collection of cars, most, if not all, being kept on the Warrenton Railway in Warren County.
I do not know the entire history of the 901 travels, but only from the late 1980s to present. The 901 had somehow made its way to the Horry County Railway (Conway to Myrtle Beach SC) and was in danger of being scrapped. Member Melvin Best (now deceased) bought the car for $500 and gave it to the group. Arrangements were made to put the car on the Laurinburg and Southern railway if they could use it occasionally (yes that's correct – use it). A small group went to South Carolina to ride the car to the Mid Atlantic railway interchange in Conway.
We found the train in Red Hill and the crew let us on. Let's say that was quite an olfactory experience. When we got to Conway, the first item of business was a trip to a grocery store for garbage bags and rubber gloves. We filled most of the railroad's dumpster with trash and other items that shall remain unnamed. The biggest shame of it all was the car still had the original dark green mohair mattresses on the beds in the sleeping quarters. I'll let everyone imagine why they had to go in the trash (remember the olfactory experience).
The car made its way to Laurinburg by way of Chadbourn NC to Mullins SC on the Mid Atlantic Railway and to Laurinburg NC by way of Dillon and Hamlet on CSX.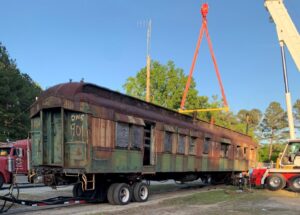 The car remined in Laurinburg for several years and was used by the Laurinburg and Southern to offer train rides to the employees of their largest customer Libby-Owens-Ford (now Pilkington) glass at their company picnic, normally staying tucked out of the way inside the plant perimeter. At one time the L&S had the car moved to Rocky Mount on the CSX "A line" for use on their newly acquired Nash County Railway with some of our members helping out. In all the moves there was never a mechanical issue. At some point when the L&S was contemplating selling out (which they ultimately did – to Gulf and Ohio Railways of Knoxville, TN), we were told the car needed to go. We made arrangements to put it at the Shearon Harris plant. After all the previous movements on CSX, the CSX car inspector decided he didn't like one wheelset. L&S had a car shop and said they would do the work if we supplied the wheelset… now where to find one? Lo and behold one was found in Richmond, VA, where some cars had been scrapped, but the good wheels kept. I took my F350 truck and hired a wrecker to load the wheelset and away south we came (making sure to use the back roads to stay away from the VA and NC weigh stations).
The wheelset was delivered to the L&S and all was well, or so we thought. Somewhere L&S had lost a piece of the draft gear. When the L&S called, they said the car would have to be scrapped as there was nowhere, anywhere that any parts for Sharon draft gear were (Sharon draft gear is a very old, small and obsolete type of draft gear). But all was not lost, as a sister car was in Raleigh near the old Farmers Market being used as on office never to turn a wheel again (still there?? Somebody go investigate), the part was obtained, L&S put everything back together and the car was ready to go.
The car was to move Laurinburg and Southern to the Aberdeen and Rockfish at Raeford NC, A&R to Aberdeen Carolina and Western at Aberdeen. Aberdeen, Carolina and Western to Star and on to the Carolina Power and Light Cape Fear plant (sound familiar) at Brickhaven. A CP&L move through the plant to CSX at Moncure and then on to Shearon Harris. Jim Meade and myself rode the car from Laurinburg to Raeford and rode the engine when we went to switch the JP Stevens textile plant at Wagram (RARE MILAGE!!).
And now, NS 901 has finally made it to Bonsal.
[Editor's note: If you have photos or other info about long-ago events at the
NCRM, please contact your acting editor. You can submit your own "Back in the
Old Days…" article with pictures about anything (within reason) from our past for
the Telegrapher. If you can rough out the ideas, we can work with you to turn it
into an article to benefit the entire membership. – CT]
Museum Business – You Missed Our 40th Anniversary and Didn't Even Send a Card!
by Victor Varney
Now having a lot of old Telegraphers organized and filed in our archive, we can more
easily find out about all sorts of interesting happenings in our past. Despite thinking
by some that the East Carolina Chapter of the NRHS moved from Farmville to Bonsal
sometime in 1983, it actually happened in 1982. That was a busy year for our
organization back then. First was the effort to purchase the line from the Southern
Railway. The vote to purchase the track was 35 to 1.
Read more in this May-June 1982 Telegrapher for the details and mention of the need to raise funds. Especially notice in the map how much of the "old line" was included in the purchase. (We will save that
story for a future article about what happened to the "old line".)
Also, take a look at this letter that went out to members to help raise funds for the
purchase. (Much like our recent fund raising for Save the 10.)
Remarkably only a month after purchase, the organization was able to pack up all the
equipment and move from Farmville to New Hill. That was the "Great Move". It
happened on August 22, 1982. They finally made it to New Hill yard at 2:15 am on
August 23.
While the August Telegrapher provides a lot of details, we also found a photo album with pictures of the "Great Move" and shortly after arriving at Bonsal. The album includes nice handwritten captions. (The album with many other interesting old photos is also now safely kept in the archive.)
So as of August 23, we have been in Bonsal for 40 years. No need to send an anniversary card now…
The NCRM Archive is Looking for a Few Good Telegraphers!
by Victor Varney
The effort to gather up and inventory in our new climate-controlled storage unit in Apex continues to make progress. Anita Hussey has done a great job going through now over 64 boxes of NCRM items brought to the storage unit for curation and safe keeping. Every single item in each box has been documented. Our first priority to document the history of the NCRM has been to assemble and file a complete collection of Tarheel Telegraphers. We are happy to report that we now have a complete collection of every single issue starting with Newsletter #1 from July 1964 to 1992 Vol 2-4 and every issue from 2006 to today.
That said, after 1992 Vol 2-4 to the end of 2005 we are missing lots of issues. From the early 1990s through 2004 there are a variety of different formats used as well. These issues we do have sometimes are only a single page. We aren't sure if there was only 1 page in some issues, or if pages got separated.
If you have a collection of Telegraphers that can help us fill the gaps between 1992 to 2004, please consider donating them to us. They will help us fully document our history. We keep duplicates in our files so know that we won't be throwing away any issues if we get them.
There is now a small box in the yard office where you can drop off your old Telegraphers. Or contact Victor Varney if you have any questions.
The NCRM's Nuclear Fuel Train ABCs
by Victor Varney
With the NCRM's recent acquisition of six former CPRX nuclear fuel train cars from Shearon Harris, we have a very unique opportunity to preserve and share an important piece of North Carolina railroad history. For starters, our two cabooses (now NHVX 302 and 309) along with the four black pulpwood cars served in these trains between the mid-1990s until use of trains to move spent nuclear fuel ended in 2008. They were run by Carolina Power & Light to move spent fuel from nuclear power plants in the Carolinas to the Shearon Harris Nuclear Plant (which was built with safe storage capacity for spent nuclear fuel from other plants). As you know, over time CP&L became Progress Energy and later Duke Energy.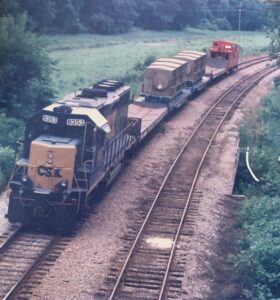 The standard train consist included a single locomotive followed by one of the pulpwood cars, one or two heavy-duty flat cars that carried the fuel in special protective containers, another pulpwood car, and a caboose.
Here is a "picture of a picture" now in our archive that show what a typical consist looked like. You can actually see a train with a caboose on the end heading down the siding to Shearon Harris. (YES WE ARE LOOKING FOR MORE PICTURES!)
During this time the railroads had generally stopped using cabooses. In these trains however the cabooses were used to carry utility and security personnel assigned to "escort" the trains. Note in one of the linked pictures you can clearly see the FRED on the caboose going into Shearon Harris.
We have learned that the security team on each train while running in NC included three State Highway Patrol officers. Two in the caboose and one in the loco cab. In addition, there would be several SHP vehicles ahead of and following the train for added security. Sometimes a helicopter was added to the escort, too. After 9-11 the three officers were all equipped with the very first AR-15s issued in the SHP.
An interesting tidbit is that at the time the SHP did not have a budget for AR-15s, so CP&L offered to donate three of them to the SHP (value $2400). This had to go all the way to the State Attorney General to make the final determination that it would be OK for the SHP to accept this "donation". (This is an example of information starting to come to us from the State Archive about these trains – see below.) Our two cabooses are early examples of what today are referred to as "Rail Escort Vehicles" (REVs) that still travel in trains operated by the US government carrying "sensitive" cargo.
Here is a link to a recent post about REVs. 
The NCRM actually has parts of two nuclear fuel trains today, with the only missing pieces being the heavy-duty flat cars that carried the spent nuclear fuel. Here is a link to a page showing some diagrams of the fuel container and how it would sit vertically for fuel load/unload, and then swivel down for transport.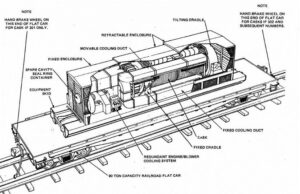 So where are the heavy-duty fuel-carrying flat cars? Actually all three of them used by CP&L are in storage at Shearon Harris. They have plans in the future to remove the fuel carrying containers for long-term safe storage. After that time, we are told the 3 flatcars will be donated to the NCRM. TBD what if any of the container exterior housing might be provided to us to place on the flatcars to allow display/operation of "simulated" fuel trains.
As some of you know, right now we are in the midst of getting the cabooses ready to run for the public to see and ride. Both have been thoroughly cleaned inside with a lot of interior touch up painting now completed in 302, but much work remains including some brake work on 309, painting the exteriors to look like new, and getting all the internal systems working (including generators, electrical, plumbing, etc.).
There is also a plan now underway to "inaugurate" our two cabooses during a special "Fuel Train Veteran" private event on a Saturday in May, 2023. Thus far we have support for this event from COL Johnson, Commander of the NC State Highway Patrol, and Duke Energy. We are also seeking to get CSX involved as well. Each of these organizations had people who worked on these trains. In many cases only a few of them are left in each organization. In the case of the NC SHP, COL Johnson actually worked on these trains himself earlier in his career, and he indicates that there are only a couple a few other SHP officers who also did that are still around. COL Johnson has already shared a wealth of info about his time on these trains. And we are starting to also get some help with searches thru North Carolina's State Archive for documents and other info.
The details for the event in May are just beginning to get put together with NC SHP, Duke Energy, and soon hopefully CSX. It could entail our operating several trains that day for hundreds (or more) visitors and also simulated fuel trains to allow the veterans to once again take a ride in the cabooses. For "inauguration day" we will also have installed in the cabooses displays of photos and other fuel train related items from the SHP, Duke Energy, and we hope CSX. The SHP has already offered uniforms, patches, and a couple of historically accurate AR-15 dummy practice rifles. After the event, we will open the cabooses with the displays for the public to see and ride in. More details will come about the "Fuel Train Veterans" event as we go. In the meantime, we need all the help we can get so the two cabooses (and at least two pulpwood flat cars) are ready to run by May in the simulated "fuel train(s)".
September Museum/Operating Schedule:
2 September 1030 Friday Ride (1)
3 September Operate-a-Loco (4)
10 September (9am-2pm) Strategic Planning Meeting @ New Hill Community Center
11 September 1100, 1230, 1400 Slow Down Sunday (3)
14 September 1030 Wednesday Ride (1)
15 September 1800 Board of Directors Meeting @ New Hill Community Center
17 September 1000 New Member Orientation @ Gazebo
24 September 1300, 1430,1600, 1730 Brew & Choo (4)
30 September 1030 Wednesday Ride (1)
If you do not receive crew calls, please contact the crew caller at COLTilley@aol.com if you are interested in participating!