New Hope Valley Railway is looking forward to celebrating the holiday season with its annual Santa's Reindeer Roundup Express rides on December 5, 6, 12, 13 and 19. This year's event will be full of holiday cheer, but due to the pandemic, we've implemented safety measures and protocols to keep our guests and volunteers safe.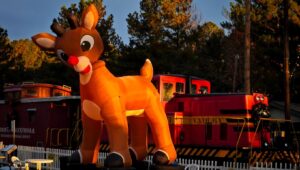 Our rail yard will be festively decorated for the holiday season and our popular 'Reindeer Roundup' activity is also returning. Young railfans can search for Santa Claus's nine missing reindeer (including Rudolph) during the 50-minute, eight-mile round trip ride on our historic train.
Unlike past years, Santa will not board the train and visit each child during the ride. Instead, he'll be sitting in his sleigh in our rail yard to provide a safe, socially-distanced photo opportunity for families and visitors (using your own camera).
Santa will sit high in the rear of his sleigh wearing a clear face shield, while guests sit in the front. This will allow for plenty of space between Santa and visitors.
In addition to holiday decorations in the rail yard, each child will receive one individually wrapped candy cane and our outdoor garden railway (G Scale) will be operating near our ticket office during ride times.
Like with our other rides this year, we have limited the capacity on our train rides to 30 percent in accordance with state mandates. This means roughly 15 passengers are seated in each open-air passenger car. Additionally, we have two private historic cabooses with seating for up to one family each.
After each ride, we spray sanitize each passenger car and both cabooses, and encourage guests to use the hand sanitizing stations located throughout our property. NHVR volunteers and all passengers five years of age and older are required to comply with North Carolina's face covering requirements. View all of our safety measures due to COVID-19.
Santa's Reindeer Roundup Express rides are sold out, but visitors are welcome to stop by our rail yard in Bonsal, N.C., during ride days to see our garden railway in operation and to take a photo with Santa at no cost.