Volume 62 –   Issue 07                                                                   July 2022
From the Brass Hat
Wow, what a month June was. After only one operating day in May, obviously due to receiving the 10 cars from HNP, we made up for it in June. Seven ride days plus several training events kept us all busy. I would like to thank everyone who came out to lend a hand. We had many happy riders, especially on the weekday rides. We received several nice emails and many verbal comments praising the members of the train crew and the ground crew that made everything move smoothly and presented a professional, welcoming manner to our guests. Your ability to make people feel at home at the Museum is perhaps one of our greatest assets!
July will also be busy, but there are several things I would like to call your attention to. Enclosed in this newsletter is the quarterly Membership Ballot, with several candidates presented by the Board of Directors for your approval. These will be counted at the Quarterly Membership Meeting on 16 July at 1000AM. You can mail the ballots in or bring them to the meeting. I would suggest that everyone attend this meeting as you will get a report from our new Strategic Planning Committee, chaired by Jim Jatko. This is an important effort as the organization determines goals and direction for the longer-term.
It is also time to start thinking about the Board of Directors elections coming in a few months. Three of the nine seats are up for election each year. If you are interested in running for the Board, please let me know. COLTilley@aol.com
As always, thanks to each and every NCRM member for the support to our Museum's programs.
Respectfully submitted,
Chris Tilley President, NCRM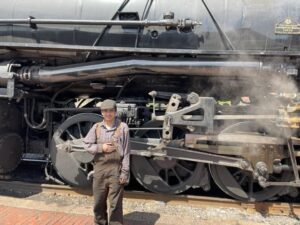 NHV Alumni News
Former NHV Youth Crew member Calvin Kuttner has made the big time! Calvin is currently employed by the Western Maryland Scenic Railway in Cumberland, Maryland as the fireman for locomotive 1309.
1309 is the largest operational Mallet (pronounced Malley) compound articulated loco in the world. (Tom Hutchinson photo)
The Famous Fig Newtons
by Victor Varney
You may have heard during the past two years planning for the Save the 10 project about some Fig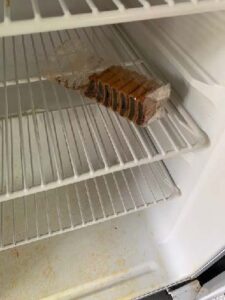 Newton cookies.
In CPRX 10002 (now NHVX 302) there is a refrigerator in which the last crew left a partially eaten package of Fig Newtons. When first discovered on our initial visit to HNP in fall 2019 we were surprised that these cookies still looked as good as they do, after coming in with the last movement into HNP in 2015 or so.
We are happy to report that the Fig Newtons still look as good and are in storage until the proper way to display has been determined. This may be an odd railway museum artifact to preserve and share, but they do tell us a little story about the crew. One must wonder what sort of preservatives they may contain.
New Member Orientation Session
The next new member orientation session will be on Saturday Sept. 17, 2022,  10 am to noon. It will be held under the covered area behind the yard office followed by a tour of the property along with some of our ongoing projects.
The orientation session is intended to give new members information about our history, bylaws, how to get information, who's who, and most importantly how to get involved as a volunteer (and have fun).
This  is open to those who have been members for up to 2 years. This is not a substitute for the rules and safety training sessions necessary to get involved with train operations, but we will explain how to attend those sessions, too. If you are interested in attending, please RSVP to either Dennis Winchell at or Victor Varney
Extra Tidbit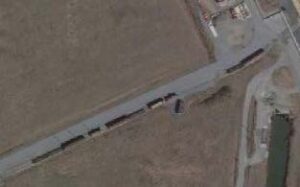 Here is a scrap discovered recently: this is an aerial photo snip of Shearon Harris Plant showing "The 10" lined up and waiting to be rescued by NCRM forces.
One can find many interesting things when browsing Google Earth maps.
Back in the "Old Days" – Young Supervisor Morck

This photo shows current NHV Superintendent John Morck supervising cross tie replacement on the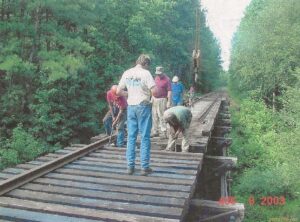 Little Beaver Creek trestle back in 2003. One-third of the ties were replaced that year.
The difference in coloration of the ties is still clearly visible almost twenty years later. They are still in great condition supporting our frequent train movements. (NCRM Archive photo)
[Editor's note: If you have photos or other info about long-ago events at the NCRM, please contact your acting editor.   You can submit your own "Back in the Old Days…" article with pictures about anything (within reason) from our past for the Telegrapher. If you can rough out the ideas, we can work with you to turn it into an article to benefit the entire membership. – CT]
Bang, Bang No More
by Victor Varney
For those of you who have noticed, our current train consist swapped out excursion car 101 for one of the recently acquired CPLX pulpwood cars. Car 101 is being repaired, and the pulpwood car is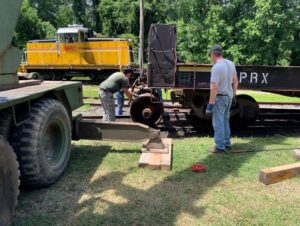 approximately the same length so is serving as a temporary "spacer" to allow our consist to still line up with the 4 boarding platforms.
The pulpwood car was found to have a flat spot on one wheel, creating a loud "bang, bang" as it moved in our trains. That problem was fixed on Saturday June 18 by
swapping out a wheelset for one taken off another one of our four new pulpwood cars. Roger Koss, Scott Smith, Kyle Obermiller, John Morck, and Mike MacLean got it done in only a few hours using our newly refurbished crane.
Duke Energy Harris Plant Donates Additional Track
by Victor Varney
As many of you know, the Save the 10 project included not only removal of the 10 railroad cars from Harris Nuclear Plant (HNP), but also removal of approximately ½ mile of track being donated to the NCRM.
Our timeline for removal of this track (more precisely the rail and hardware– no requirement on our part to remove ties/ballast unless we want it) was December 31, 2023. In the NCRM board meeting on June 16, 2022, an amendment to our Save the 10 contract with Duke Energy was approved. Duke Energy is now additionally donating all of the track between HNP and the bridge over US Hwy 1 to us.
This is as much as 1 additional mile of rail and hardware the NCRM may remove. The contract was also amended to allow the NCRM until June 30, 2026 to remove all of this rail. There remains additional rail within HNP that may also be donated to the NCRM in the future, including two other sidings in the main plant area, and the line between the bridge over US Hwy 1 up to the CSX line.
Discussions about additional track donations will happen in the future. As this amount of rail is considerable, the NCRM may retain contractors to assist us in this project. The acquisition and possible use of the rail is an item to be considered by the Strategic Planning Committee.
Save the 10 Preservation Work Begins! 
by Victor Varney
Thanks to our long-time member Dr. Bob "Doc" Majors, work is already underway to clean out our ACL baggage car recently recovered from the Shearon Harris plant.  This car is very solid (not to mention very smooth riding), but it does need a lot of cosmetic work and refurbishment of the electrical system.
There is a toilet and sink in one end that maybe could work again, too. If any of our members are so motivated, it would be nice to get a team together to take the initiative to restore this car. It is great to have the ACL baggage car finally on our property to give it the TLC it deserves.
Additional Storm Damage
 As is plainly evident in these photos, our recently reinstalled canopies did not fare very well during the high winds provided by a recent storm. This is actually the second time (and the worst) that our canopies took a hit from winds since Save the 10 moves were completed.
LAST RUN – Chris Siegl
We're sad to announce the passing on 8 June of another of our long-time members, Chris Siegl. Chris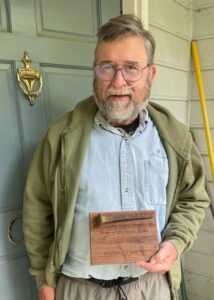 was usually seen operating the Garden Railroad on ride days, waving at all the customers with a cheery smile.
Chris served on the Board of Directors and was Treasurer of the NCRM for a couple of years.
In addition to serving as G Scale Superintendent, Chris was a patent-holding technical genius and major figure in local Boy Scout organizations.
Chris was a great friend to all who knew him and will be sorely missed.
LAST RUN – Jenny Sumerell
We are sad to announce the passing of Virginia "Jenny" Sumerell, wife of our ever-present photographer (and Wednesday Crew member), Jimmy Sumerell on 21 June.
She was a First Grade Teacher for many years. They were married 51 years. She will be missed by many.
July Museum/Operating Schedule:
16 July 1000 Membership Meeting @ Bonsal
21 July 1800 Board of Directors Meeting @ New Hill Community Center
22 July 1030 Friday Ride (1)
30 July 1300, 1430,1600, 1730 Brew & Choo (4)
If you do not receive crew calls, please contact the crew caller Chris Tilley if you are interested in participating!
Member Jack Johnston has a cup of Cowboy Coffee
at a recent Goldston Depot workday at Bonsal Yard.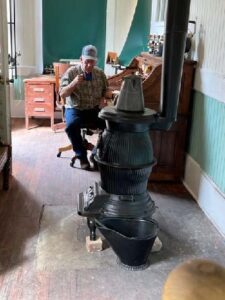 THE END!